Andrew flying high after Eagles song
by JENNY MONROE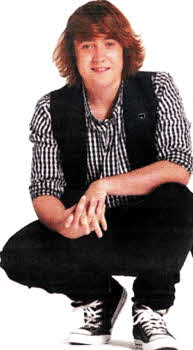 THE LISBURN teenager who has taken the Australian edition of X Factor by storm has sung his way to the final eight.
18-year-old Andrew Lawson - who grew up locally - proved to be a hit with the audience again this week with his jazz version of Eagles hit, Heartache Tonight. Andrew also got to sing on stage with Boyzone and his fellow contestants, on the anniversary of the death of Boyzone singer Stephen Gately.
"I'm just so happy to be through to another week," the singer said.
Judges Ronan Keating, Natalie Imbruglia, Guy Sebastian and Kyle Sandilands loved Andrew's laid back lounge style.
"The previous week Ronan said I looked awkward on stage. But on Sunday he said, 'I don't know what I was talking about — you were great'.
"I didn't get a single bit of negative feedback from any of the judges this week."
Andrew attended Ballymacash Primary School before his family emigrated to New Zealand when he was six. They finally settled down in Queensland, Australia five years ago.
His father Harry Lawson, who owned the family butchers in Bridge Street, introduced him to musical legends Frank Sinatra and Dean Martin and now Andrew hopes he can become as famous as his idols.
The teenager said: "It's kind of strange having people come up to you asking for your auto- graph.
'They think you're not a normal person. It's very strange to have people in the street know your name. But I am loving it — I know this is something I was destined to do."
His aunt, Jenny Dunlop said: "I think he's the dark horse to be honest. At the beginning of the show he was tipped as the one to watch, he's just so different from the rest in the show.
"I said that if he got through this week I would go over to see him, and now I'm going to have to do it. It's very exciting," said Jenny who now lives in West Kirby in England.
The Australian X Factor live show goes out on Sundays with the results show broadcast each Monday.
Harry if you read this please send me your email address. Jim Collins
Ulster Star
15/10/2010