Lisburn's X Factor hopeful blows the judges away
to reach final seven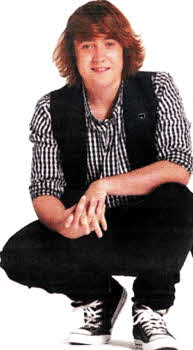 LISBURN'S Australian X Factor hopeful Andrew Lawson has made it into the final seven.
The 18-year-old singer, who went to Ballymacash Primary School before emigrating with his family to New Zealand when he was six and then to Australia five years ago, is now the only under-25 male left in the competition.
The teenager was put slightly out of his comfort zone with this week's rock theme but performed Elton John's Crocodile Rock with his usual style.
Andrew's mother Julie Lawson, whose husband 'Harry owned a Butcher's shop in Bridge Street with his late father William Lawson, says she is delighted by her son's success: "We are just so proud of him and he is just beside himself to get this far.
"He is now the top under-25 boy in Australia; it blows you away when you think of it like that."
Julie flies from the family home in Queensland every week to be at the show in Sydney and is delighted to see extra Andrew posters appearing in the audience as the show continues.
But the proud mother said the results show is becoming more difficult as the weeks progress.
"Monday nights are just horrible because we have got really close to the other families so we feel for the other contestants. But we are just delighted for Andrew," she said.
"I was concerned this week because Andrew did a rock song in week two, just to get it out of the way, and he got a lot of stick from the judges. "So when it came out that this week was rock week I was a bit worried worried."
Judge Ronan Keating criticised his choice of song but was blown away by his performance.
"It's not a rock song, but Andrew besides all that I really enjoyed your performance. Your confidence has come on 100%, your tone was great and you sounded great.
"Honestly I really enjoyed it and you're definitely growing in this contest," the Boyzone singer said.
Co-judge Natalie Imbruglia said: "Its probably the most confident I've seen you. "Working with what you had to work with you totally delivered that song and you entertained me, it was great." Next week contestants will perform movie soundtracks and the singer will be mentored by former Westlife star Brian McFadden.
Ulster Star
22/10/2010