Lisburn singer even closer to winning Aussie X Factor title
by JENNY MONROE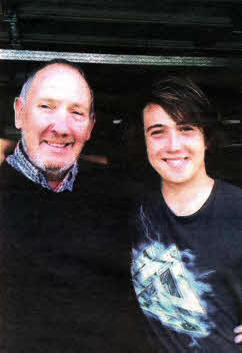 Andrew Lawson
with his father Harry.
LISBURN singer Andrew Lawson is now just two live performances away from winning Australia's X Factor title.
The 18-year-old impressed judges with a version of Sam Sparrow's 'Black And Gold' in his signature jazz style during this week's live show, putting him in the final four of the competition. Andrew attended Ballymacash Primary School before leaving for New Zealand with his family when he was six years old-
The family settled in Queensland, Australia, five years ago.
Speaking after his performance Andrew said: "I've come this far, who says I can't make it to the end?"
His aunt Jenny Dunlop is very excited for the young musician. She said: 'Andrew's performances get better each week, it's great to watch him get more relaxed and into his groove as time goes on, he is doing what makes him happy and that's all that matters to me."
Judge Ronan Keating said he thought Andrew's song was a great choice.
The Boyzone star, who has been critical of the young singer after previous performances, said: "You have put yourself right at the top with that performance tonight- "Great song choice, one of the best song choices tonight.
"I loved your performance, your voice is getting stronger and stronger and your eyes -- your contact with the audience, again it's just fantastic."
Australian singer and judge Natalie Imbruglia said Andrew pulled off a difficult song and massive production with ease and swagger-
"You did a really good job, you sang really well," she said.
His mentor Kyle Sandilands is now convinced the teenage talent will make it into the final and could possibly win.
Andrew's younger sister Alex said she was "over the moon" too see her brother make it so far.
The 17-year-old would also love to follow in her brother's footsteps.
After she finishes school, Alex hopes to travel to the UK next year and audition in front of Simon Cowell and the other X Factor judges.
Andrew's mother Julie Lawson, whose husband Harry owned a Butcher's shop in Bridge Street with his late father William Lawson, says she is delighted by her son's success: "We are just so proud of him and he is just beside himself to get this far."
Julie flies from the family home in Queensland every week to be at the show in Sydney and is delighted to see extra Andrew posters appearing in the audience as the show continues.
Ulster Star
/2010