Andrew in touching distance of X Factor dream
by JENNY MONROE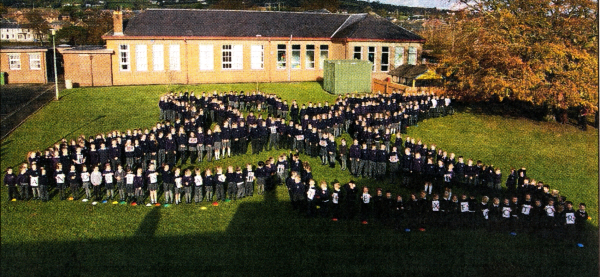 Children from Ballymacash Primary showing their support for former pupil Andrew by forming a giant X in the school grounds this week.
A DREAM really could be about to come true for a former Lisburn teenager who has made it into the grand final of X Factor Australia. Dubbed by many as the most improved in the talent show, Andrew Lawson, who grew up in Lisburn and attended Ballymacash Primary school before his family emigrated when he was six years of age, has wowed audiences, judges and mentors to catapult him to the top of the competition.
The 18-year-old said he breathed a sigh of relief as his name was called out on Monday night, advancing him to the top three. Andrew opened the show with Billy Joel's hit "Uptown Girl and later sang Frank Sinatra's classic "Something Stupid" as he returned to his cool, charismatic, crooner style.
| | |
| --- | --- |
| | |
| Andrew at his father's butcher's shop in Bridge Street before the family emigrated. | Andrew with his dad Harry. |
"I was terrified," he said. "I wasn't sure what was going to happen. I just hoped I would make it to the final."
Andrew said it was hard to believe he was still in the competition. Although he had hoped he would get this far, it was just a dream at the beginning.
"It has been the experience of a lifetime. I can't thank everyone enough for keeping me in the competition," he said. "I hoped I would be here — it is incredible." The Lawson family ran a butchers shop in Bridge Street before emigrating in 1998. Andrew's dad, Harry Lawson, introduced him to musical legends and now Andrew aspires to become as famous as his idols Frank Sinatra and Dean Martin.
Stephen Gray, the principal of Andrew's old school, Ballymacash Primary, said the school is very proud of him. Mr. Gray commented: "Before emigrating to New Zealand Andrew was in Ballymacash for his reception year and part of Primary 1. Mrs. Orr his reception teacher still remembers Andrew as a bright pleasant happy young boy, who had confidence and a great sense of humour — a charmer in the making.
"It is always great to hear of the achievements of former pupils and from all of the staff and pupils at Ballymacash Primary School we wish Andrew every success in the final stages of the competition."
Jenny Dunlop, Andrew's thrilled aunt says Lisburn people can show their support for Andrew by sending an SMS text with Andrew's name to 0061 1977 8888 between 10am and midnight on Sunday November 21.
| | |
| --- | --- |
| | |
| The song which Andrew got onto X-Factor with was 'Fly me to the Moon' so two P1 pupils at Ballymacash are hoping he goes all the way to the moon in his quest for success. | Andrew with his family in Lisburn. |
Mum thrilled by local support
AUSTRAL1AN X Factor star Andrew Lawson is delighted by the support shown from people in Lisburn and around the province.
His delighted mum Julie said this week her son was enjoying huge fame in the UK and Northern Ireland, with his Liverpool-based aunt Jenny Dunlop going to great lengths to promote her nephew back home. Andrew will be counting on the support as he heads into the grand final this weekend.
"They have all been following him but couldn't vote," Julie said.
"On Sunday we worked out a way they can vote so that's great for the grand final. It's amazing. It's gone global."
Andrew's new-found profile overseas had reunited old friends, his mum said.
"People I lost touch with when we left Ireland, other mums, have been getting in touch on Facebook saying they are so pleased to be back in touch.
"It's amazing, Andrew's even in the school magazine.
"He could get off a plane in the UK and everybody would know him now."
Mayor backing local boy's bid for glory
THE Mayor of Lisburn, Alderman Paul Porter is urging local people to vote for Andrew in the final. Speaking about Andrew Mr. Porter said: "I would like to encourage everyone to vote for Andrew to hopefully see him crowned winner of X Factor Australia. It is great that a locally born talent has been successful in such a high profile music talent show.
"Residents of Lisburn can show their support for Andrew by sending an SMS text with Andrew's name to 0061 1977 8888 between loam and midnight on Sunday 21st November. I hope that local residents do use this opportunity to provide Andrew with the career in music that he dreams of."
Ulster Star
19/11/2010