Lisburn kitchen firm back after burglary
by MARY MAGEE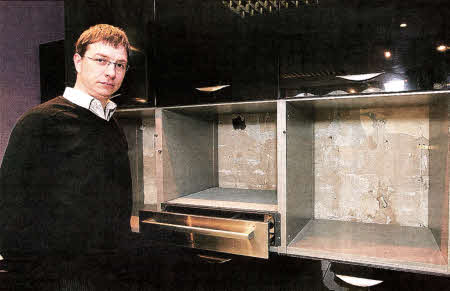 Phillip Cardy, from Richardson Cardy stands beside one of the empty kitchen units in the shop after thieves broke in at the weekend and stole a number of ovens and other electrical appliances. US4210-522cd
BURGLARS made off with tens of thousands of pounds worth of goods after breaking into a luxury kitchen firm in Lisburn's Railway Street during the weekend.
Andy Cardy, who runs Richardson Cardy with sons Phillip and Mark, discovered the break-in at 7am on Monday morning.
Burglars had used sledge hammers to knock down doors and stole among other things took cookers, hobs power drills, saws and generators.
Andy immediately realised
something was wrong as he drove to the gates and realised the lights which are normally left on in the showroom were off.
When he got in he discovered a box van lying with the back door open. The back door of the showroom had been knocked down and a sledge hammer was used to break the locks. Some of the lights which could not be switched on were simply broken.
From one of the showrooms they stole hobs and ovens as well as a range cooker. They then broke into the office and stole mobile phones and petty cash.
Andy, a watch collector, also had a unique numbered Hamilton watch taken from the office- It is one of only 2008 ever made, and though not expensive is rare.
Once the burglars got into the factory they stole all the appliances, power tools, saws and five generators two of which were brand new and still in the box.
They also stole appliances including a Brittania cooker worth £2,000 and got keys to steal appliances from a kitchen which was to be fitted on Monday from the back of a van. The kitchen was still delivered on Monday morning but had to go out without the appliances which will be ordered and sent on later.
The thieves are believed to have gained access through the Orange Hall gates at Wallace Avenue sometime between Saturday afternoon and Monday morning. "They must have had to use a big lorry," said Andy. "I hire a right of way from the Orange Committee to get lorries into my premises so they must have got in that way."
Andy, who has owned the business for 38 years, locked up the premises at 2.30pm on Saturday and the burglary was discovered at 7am on Monday.
"When I saw what had happened I just felt violated" he said.. "They were in the office and went through personal stuff.".
Ulster Star
29/10/2010