Anne Frank exhibition comes to Lisburn
by JULIE ANN SPENCE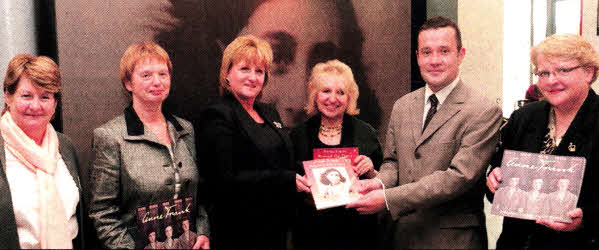 At the handing over of the 'Anne Frank and You' exhibition to Lisburn City Library are: Mairead Ferguson, Libraries NI Cultural Specialist Manager, Cllr Sara Duncan, Castlereagh Borough Council; ClIr Dineen Walker, Chairman of Newtownabbey Borough Council's Leisure Services Committee, Gillian Walnes (MBE) Executive Director of the Anne Frank Trust UK; ClIr David Archer, Chairman of Lisburn City Council's Leisure Services Committee and Clir Margaret Tolerton, Vice-Chair of the Lisburn-Castlereagh PEACE lll Partnership.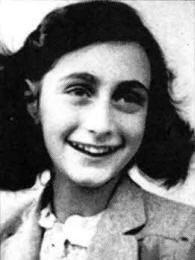 DURING the month of October a major Anne Frank Trust UK touring exhibition, Anne Frank + You' will be on display in Lisburn City Library, Linenhall Street, Lisburn.
This famous and thought-provoking exhibition is part funded by Lisburn City Council's Good Relations
Programme and the Lisburn/Castlereagh Peace 1II Partnership, supported by the EU's PEACE III Programme, in association with Libraries NI. The Anne Frank story, told through Anne's diary about prosecution, war and sacrifice is regarded by many as an historical account of the Holocaust and Lisburn City Council is honoured to see the exhibition come to Lisburn. Speaking at the handing over of the exhibition from Newtownabbey Borough Council, Chairman of Lisburn City Council's Leisure Services Committee, Councillor David Archer, said: `Anne Frank is one of the most renowned and most discussed Jewish victims of the Holocaust and this is an opportunity for everyone, especially local school children, to learn more about her life and her struggle and how the issues she wrote about have relevance today.
"I encourage everyone to come along to Lisburn City Library to learn about this inspirational girl who has made a difference right across the world and hope that people from all ages will come to learn more and see the Anne Frank exhibition. I also thank the European Regional Development Fund for part- funding this project through the PEACE III Programme and Libraries NI for hosting the exhibition in the Lisburn branch," he added.
Executive Director of the Anne Frank Trust UK, Gillian Walnes explained: "The exhibition is split into themes that are still relevant in today's society such as nationalism, human rights, tolerance, civil courage, personal responsibility and respect. It also puts Anne's experiences of war, dictatorship, racism and identity during the rise of Hitler and the ensuing Holocaust, in the context of a teenager's life today. This exhibition is unlike any other that is touring the UK and is certain to be a talking point."
The touring Anne Frank exhibition is open to the general public and school groups, free of charge, from Monday October 4 to Saturday October 30. It is open Monday and Tuesday 9am to 8pm, Wednesday 12pm to 10pm, Thursday, 9am to 9pm, Friday and Saturday 9am to 5pm, Sunday—closed.
Pre-booking is essential for schools and group visits. Please contact David Mitchell, Good Relations Officer, Lisburn City Council on 9250 9 4 9 2 or email david.mitchell@lisburn.gov.uk
This project is part financed by the European Union's European Regional Development Fund through the EU Programme for Peace and Reconciliations managed by the Special EU Programmes Body.
Visit www.lisburncity.gov.uk or www.annefrank.org.uk/annefrankandyou for more information.
julieann.spence@ulsterstar.co.uk
Ulster Star
24/09/2010