Apprentice of the Year Awards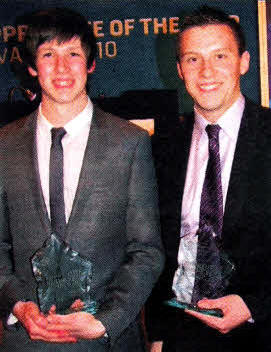 Local students Colin and Justin make the final of the Apprentice of the Year Awards
TWO South Eastern Regional College students Colin Gray and Justin Guiney became ftnalists in the Apprentice of the Year competition.
Colin Gray, aged 22 is a Level 3 Refrigeration Apprentice who trained with SERC Lisburn and Montgomery Refrigeration. He began as an engineer then designed, costed and executed major projects for supermarkets such as Tesco and Sainsbury.
Colin's supervisor at Montgomery Refrigeration Ltd said that Colin had both a conscientious and positive attitude.
"I was immediately impressed with Colin's positive, conscientious attitude from the beginning of our working relationship'" he said. "He has continued to learn and take on responsibility in his role as a design engineer".
"I have no hesitation in asking Colin to represent Montgomery on behalf of the design team at meetings with some of our major clients e.g. Tesco and Sainsburys. We are confident in his ability to communicate the design requirements and programme schedules relating to various aspects of projects."
A tutor for Justin Guiney, 20, the other finalist described him as 'confident' and 'hardworking.'
A Level 2 Polymer Processing and Signmaking apprentice from Ballinderry, Lisburn, works for Clarehill Plastics, Moira and is working towards a Level 2 NVQ and a National Certificate.
Justin was the first apprentice employed by the company and according to them has demonstrated himself to be an 'exemplary employee'. He is involved in technical work involving both maintenance and process engineering. They described him as someone who shows 'fantastic initiative' and 'capable of working under minimal supervision.' According to his tutors, "Justin displays a high level of analytical skills and aptitude for new technologies.
"Justin is focused, confident and hardworking." They continued, "he was won great respect from colleagues and his thirst for learning means, he'll just keep getting better."
The awards ceremony was held in the Europa Hotel and hosted by Stephen Nolan and Sir Reg Empey (Minister for Employment and Learning). South Eastern Regional College was well represented with two out of the six finalists training at the College.
Ulster Star
16/07/2010