Armed Forces honoured at local ceremony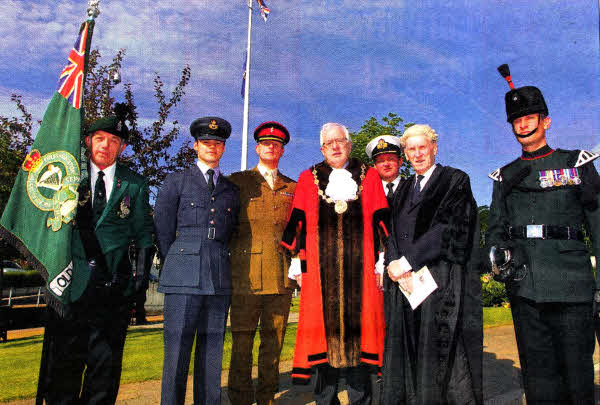 With the former Mayor of Lisburn, Councillor Allan Ewart at the recent ralsing of the Armed Forces Flag are (l-r): Mr Richard Hogg, Royal British Legion; Pilot Officer Griffiths, Royal Air Force; Lieutenant Colonel J Clarke, Royal lrish Regiment; Commander M Quinn, Royal Navy; Mr Norman Davidson, Chief Executive of Lisburn City Council and Lance Corporal Freedland, 2 Rifles.
THE former Mayor of Lisburn, Councillor Allan Ewart, has hosted a ceremony to raise the Armed Forces Flag at Lagan Valley Island to mark the beginning of Armed Forces Week nationwide.
In attendance at the ceremony were representatives of the Army, the Royal Navy, the Royal Air Force and the Royal British Legion to honour soldiers, sailors and airmen of the past and present
This ceremony was the former Mayor's 950th civic engagement and marked the end of his Mayoral Term.
Mr Ewart said: "We are gathered here to celebrate what our veterans have achieved, what our current troops are fighting to achieve and the opportunities that will be offered to future generations of soldiers willing to dedicate their lives to protecting us.
"By raising the Armed Forces Flag here at Lagan Valley Island, the message being delivered to
residents and visitors is that Lisburn appreciates the dedication and achievements of all our service personnel, and supports the men and women who make up the Armed Forces community: from currently serving troops to service families, and from veterans to cadets."
Lieutenant Colonel Jonathan Clarke, Royal Irish Regiment, said: "It is a great for the troops serving overseas to be honoured locally and I am privileged to be part of Lisburn's celebrations." Lagan Valley MLA Jonathan Craig, who attended the ceremony, urged people to remember the troops. "I urge everyone to remember those who are serving our country abroad in order to restore peace and democracy to places like Afghanistan and Iraq. I also praise those soldiers who are serving our country in peace keeping missions abroad. We will remember them."
julieann.spence@ulsterstar.co.uk
Ulster Star
25/06/2010