Ashleigh's `true colours' shine through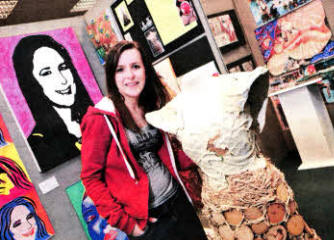 Ashleigh McKinstry showcases her stunning woodland dress, which she designed for her Art and Design GCSE.
LAURELHILL Community College pupil Ashleigh McKinstry let her 'true colours' shine bright recently when her work was included in CCEA's popular Art and Design exhibition, which returned with a showcase of colour and talent.
The annual True Colours event was launched last week when over 75 GCSE and A-level pupils from schools across Northern Ireland showcased their creative talents at CCEA headquarters in Belfast.
From fine art and design work to innovative sculptures and animation, this event is a feast for the eyes.
Only the most creative and exciting artwork is chosen for the exhibition and this year certainly did not disappoint visitors.
The young artists, along with their families and teachers, and other visitors and VIP's, turned out in force to view the inspiring exhibition.
Congratulating the students on their innovative art and design pieces, Gavin Boyd, Acting Chief Executive, CCEA, commented: "I continue to be impressed by the variety and quality of the work on show.
"Art and Design continues to be a popular subject in both GCSE and GCE throughout Northern Ireland. It is truly inspiring to know that we have such a strong tradition of artistic talent here. My congratulations to all of the students and teachers involved."
Guest speaker Julian Friers, President of the Royal Ulster Academy of Arts, commented: "The creative diversity on display is awe-inspiring. This evening I have seen everything from a 'skyscraper' dress to fantastic digital portraits. I look forward to hearing about how many of these students progress in the field of art and design."
The exhibition runs until this Friday December 17, and then again from Tuesday January 4 to Tuesday January 18, at CCEA Headquarters in Belfast.
Ulster Star
17/12/2010