Balancing lakes 'could offer solution to Lagan floods'
by JENNY MONROE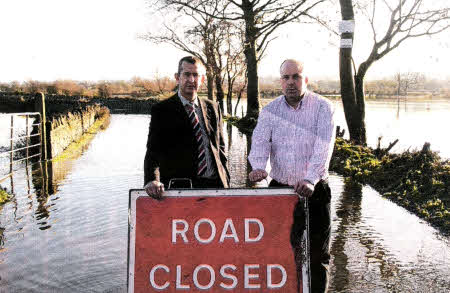 Lagan Valley MLA Edwin Poots with local Councillor James Tinsley at one of the roads in the Flatfield area which was closed last week due to floods.
LAGAN Valley MLA Edwin Poots says he is looking into ways to solve the problem of the Lagan flooding the local area during severe rainfall.
This follows the heavy rain last week which left many roads in the area impassable.
As heavy rain and strong winds battered Northern Ireland many drivers couldn't access flooded roads. Roads in Moira, Glenavy and the Flatfield area were particularly bad.
Speaking about the floods in the Maze area, Mr. Poots said that this was not the first time the area has been badly affected by heavy rainfall. He also suggested that connecting the Lagan through the Maze site could offer a solution to the problem.
He commented: "The Flatfield area suffers when the Lagan absorbs large amounts of water. "There is no indication of any problems with the organisations that are responsible for ensuring good drainage takes place and it appears capacity of the river was exceeded."
He continued: "A potential solution I would see in the future is to connect the Lagan through the Maze site and create balancing Lakes which could absorb the additional water when there is heavy rainfall."
Mr. Poots said he would discuss this matter further with the Office of the First and Deputy First Minister to look at the potential of a solution for this problem.
He said this idea could "add to vibrancy of the site and potential offer for leisure and tourism facilities in the Maze."
Ulster Star
26/11/2010