Lisburn students take part in beach clean-up

SERC students who took part in the beach clean-up in Portstewart with staff members from the National Trust who supplied tools and equipment to help with the clean-up.
A GROUP of 20 Sports Studies students from the Lisburn Campus of South Eastern Regional College (SERC) recently took part in a 'beach cleanup' in Portstewart. The clean-up was organised by lecturer Carla Magee in conjunction with the National Trust.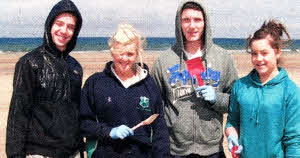 The students, who are studying for a National Diploma in Sport, had to complete a module on Outdoor Activities and the impact of waste on the environment. They decided to examine the impact on coasts of the continued growth in water sports such as surfing and sailing.
Carla commented: "It was a great day out' the sun was shining and the students were very enthusiastic about the clean-up. The previous weekend was the busiest of the year with over 1500 cars on the beach so there was quite a bit of work to be done."
After a day of collecting litter from the beach, representatives from the National Trust delivered a seminar on 'beach conservation in Northern Ireland', providing the students with some valuable information and insight into the work carried out on an on-going basis to ensure beaches meet the necessary standards to remain open for public use.
Ulster Star
13/08/2010