Julie-Anne's Ben Nevis trek to remain a once in a lifetime journey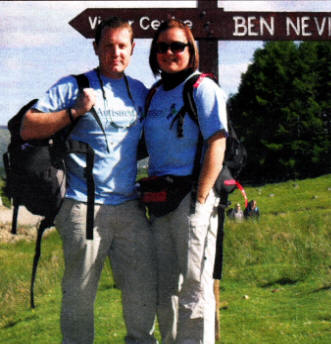 GOING to the top of the UK's highest mountain was described as a once in a lifetime trek - and for Glenavy woman Julie-Anne Stagg that's just what reaching the top of Ben Nevis will be.
'Never again' was Julie-Anne's first reaction after taking part in the challenge with husnand Gareth in aid of Autism NI.
But it was all worth it as the couple, along with 25 other participants from all over Northern Ireland, managed to raise over £12,500 for the Northern Ireland Autism charity by climbing 4,408ft to the top of Britain.
The couple were keen to do something for the charity as the family has received much support from Autism NI since her son Evan (7) was diagnosed with the condition. He suffers from Asperger Syndrome which means he has difficulty in social situations. They found the support they were given from Autism NI invaluable.
The couple had already raised £1200 from a night held at Julie-Anne's sister's pub, Gawleys Gate in Aghalee.
And the mum-of-two was confident her training schedule - five times a week for five months - was more than enough to help her cope with last weekend's climb.
"I thought I was training very hard," said Julie Anne. "I did not realise that I should have been climbing Slieve Donard every week! I was told later 'to climb a mountain you must train on a mountain'. I thought I was doing enough, walking in places which were hilly and training four or five times a week as well as going to the gym for 30 to 40 minutes at a time."
Not that she got a lot of sympathy from her sisters when she revealed what she planned to do. On hearing what she was about to embark on, Julie-Anne said they 'nearly fell on the floor laughing.'
"They said they would give me £500 just to see me going up the mountain'" said Julie-Anne.
But she was determined to prove them wrong. "It was really tough going'" she said. "I probably didn't realise just how tough. My husband had to stay with me and every time I looked down I thought, 0 My God how did I get up so high."'
But when she got to the top the views made it all worthwhile. There was snow at the summit and she got to see what few climbers witness - a clear sky. There are just 10 days in the year where there are clear skies.
Despite that it's not an experience she plans to repeat.
"Next time I think I would prefer to fall out of a plane," she said.
Kerry Boyd' Fundraising and Marketing Manager for Autism NI, said that she was delighted with Gareth and Julie-Anne's fundraising efforts
"I would like to thank Gareth and Julie-Anne along with the rest of the participants for taking on this great challenge," she said.
"All monies raised by this challenge will be used to support Autism NI's vital services which include a Parent Support Network, Family Support Service, training and education courses' developmental research and also lobbying for a N1 Autism Act."'
Autism N1 are currently recruiting for the Mourne Adventure which takes place in September 2010. For further information contact Kerry on 9040 1729 or email kerry@autismni.org.
Ulster Star
09/07/2010