Ulster Grand Prix revs up for charity
All geared up for another great Bike Week at Dundrod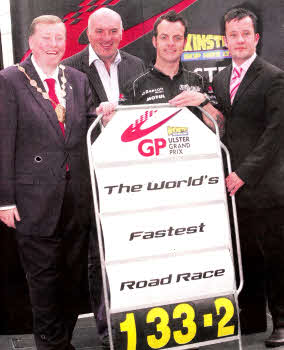 Mayor of Lisburn, Alderman Paul Porter, Noel Johnston, Clerk of the Course at the Dundrod Circuit, Cameron Donald of the Relentless TAS Suzuki Racing Team and Councillor David Archer from Lisburn City Council celebrate the launch of the new three-year TV deal with Greenlight TV and BBC Sport NI.
THE Ulster Grand Prix has announced that the Down's Syndrome Association is their nominated charity for 2010.
The charity' which is based on the Lisburn Road in Belfast and is the main point of contact for anyone in Northern Ireland who requires information and support on all aspects of living with Down's Syndrome' was chosen for personal reasons.
Noel Johnston' Clerk of the Course at the Dundrod & District Motorcycle Club said; "A close family member of mine has Down's Syndrome and recently reached the incredible age of 62' after being told it was unlikely he would reach his teens.
"He has brought so much joy and happiness into our lives and it's because of him that we are only to happy to support the Down's Syndrome Association and the terrific work they do here in Northern Ireland."
Donna Lynch' Regional Manager and Director of Aduite Development at the charity said; "The Down's Syndrome Association is delighted to be the chosen charity of the Ulster Grand Prix 2010 and welcome the opportunity to reach a new audience' raising not only much-needed funds but also raising public awareness about the work that we do here in Northern Ireland.
"With just four members of staff, we rely almost entirely on public donation and volunteer support to carry out our work which includes advice and advocacy' information & training as well as a youth work programme of social' creative and recreational activities for teenagers and young adults right across Northern Ireland.
"We are extremely grateful to Noel Johnston for this opportunity and look forward to an exciting week at Dundrod."
Funds will be raised for the charity during Bike Week (8-14 August).
Shuttle bus for races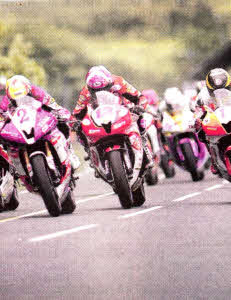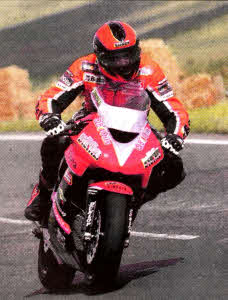 TO ensure that supporters can make the most of Saturday's races at the 2010 Ulster Grand Prix the Council is providing a shuttle bus service from locations within Lisburn city centre' on Saturday' August 14.
The shuttle buses will depart from Lisburn Railway Station at 9am' 10am and 11am and Lisburn Bus Station at 9.05am' 10.05am and 11.05am. The return buses will leave from the Ballymac Hotel at 4pm' 5pm and 6.15pm.
The Ulster Grand Prix Bike Week is a key event in the Northern Ireland sporting calendar and Lisburn City Council has annually contributed funding to support this event' which brings thousands of motor sport enthusiasts and tourists to the Lisburn area benefiting the local economy.
The cost is £1 single and £2 return. For further information please contact the Lisburn Tourist Information Centre on 028 9266 0038.
Ulster Star
06/08/2010