Look behind `Roo'...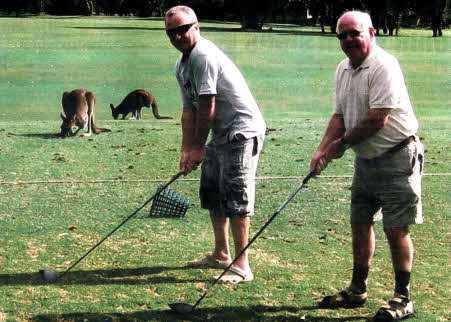 Bobby Watson with son Raymond playing golf in Perth.
Lisburn Golf Club member Bobby Watson timed his winter holidays to perfection when he visited his son Raymond in Perth Australia.
With the Lisburn course closed due to the freezing cold weather, Bobby and Raymond enjoyed a game at Meadow Springs Golf Club, at Mandurah, about 40 miles south of Perth. With sub zero temperatures in Lisburn, conditions were much more pleasant in Perth with thermometer readings of nearly 30 degrees. The Meadow Springs course is close to the beach and is rated one of the best in Western Australia.
Raymond emigrated with his wife Heather, son Jacob and daughter Sarah, four years ago.
He runs a very successful painting business. When he was a member of Lisburn he played off a handicap of six. Now he just plays golf for fun. His son Jacob is a keen games player and enjoys rugby and Australian Rules football.
Raymond and his family will return to Lisburn in January for a short holiday when hopefully the temperatures will be above the winter average.
Ulster Star
03/12/2010