Lisburn soldier to present gallantry medal to museum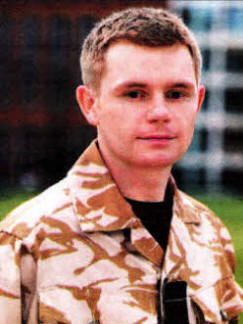 LISBURN soldier Lance Bombardier Gary Prout is to present the Conspicuous Gallantry Cross, which he was awarded earlier this year for 'incredible courage' in Afghanistan, to the Royal Artillery Museum.
Lance Bombardier Prout will present his medal, which was awarded for risking his life in 2009 by attempting to save the life of one of his colleagues under intense enemy fire in Afghanistan, on Friday to Major General R L Barrons CBE, Chairman of Firepower, The Royal Artillery Museum who plan to display the rare gallantry award at the museum in South East London.
A member of 19th Regiment Royal Artillery, Lance Bombardier Prout was tasked to patrol and probe the TaIiban's forward defences in the area south of Musa Qaleh. After several hours the patrol was attacked and pinned down by numerous enemy firing points using small arms and rocket propelled grenades.
One of the soldiers was hit by the explosion and was stranded, in the open' unable to move due to his injuries. Ignoring the obvious danger' Lance Bombardier Prout broke cover and ran forward in full view of the enemy to help his colleague. The enemy saw him administering first aid and turned their fire on him.
Despite this he managed to drag the casualty to safety and get him to a medic. As soon as he was satisfied that his colleague was in good hands, Lance Bombardier Prout once again risked his life' returning to his fire support team to help the fight. Using a smokescreen and calling for air support they managed to extract themselves back to base without further injury.
His citation states: "Prout consciously risked his life, on three separate occasions, and it was a miracle that he himself was not killed. He displayed the most incredible courage."
Ulster Star
16/07/2010