Moira boy to meet his United heroes
Sir Alex fixes it for Brian to visit Old Trafford
by MARY MAGEE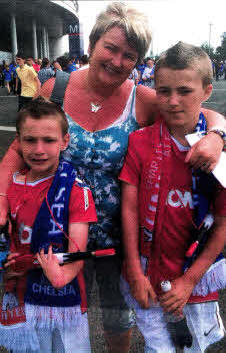 A YOUNG Manchester United fan from Moira who suffers from a rare form of a genetic blood disorder has been invited by manager Alex Ferguson to watch his heroes in training.
Eight-year-old Brian Kerr, who suffers from Fanconi's Anaemia, will get to meet stars like Rooney, Scholes, Ferdinand and Giggs during a training session in Manchester on September 23.
A delighted Brian got a letter this week from Sir Alex inviting him and brother Adam to training, followed by a buffet and a tour around the grounds. They will also get their shirts signed by all the players.
It comes weeks after Brian and his family were left disappointed when their dream holiday to Florida, which had been made possible with the support of many wellwishers and friends, had to be cancelled at the last minute because of deterioration in the youngster's condition.
Doctors feared he could haemorrhage if he went on the long haul flight because of his frequent transfusions.
Instead Brian and Adam along with mum Gaye flew with friends to London. There they met their friends the Fletcher family, who have been in London since January when their son Joshua had a bone marrow transplant. They went to Chessington, Thorpe Park where Brian experienced his first upside down roller coaster, Legoland and Hyde Park where they spent the day with the
Fletchers.
They also went to Wembley Stadium where the boys got to watch Manchester United beat Chelsea 3-1 in the Community Shield.
During their holiday Brian, who still needs frequent transfusions, went to St Mary's Hospital which Joshua is currently attending, to undergo a platelet transfusion.
Their break was also tinged with sadness because Tuesday August 10 was the fifth anniversary of the death of Brian's twin sister Helen. "It was an emotionally hard day as it was five years since we lost little Helen and it was the first time we had been away on her anniversary, so we said goodbye to London and focused on our next adventure," said Gaye.
"Brian is real inspiration. He just takes everything in his stride and says all the right things. I was a little upset on Helen's anniversary and he comforted me and said 'mummy we will just carry her in our hearts won't we?"
Gaye added: "I would like to thank everyone who fundraised for our family, for their kind donations, thoughts, prayers and good wishes.
Special thanks to Sandra Carey, without her assistance Brian couldn't have experienced the upside down roller coasters at Alton Towers.
"Brian is now waiting on a date to go to theatre to get a portacath in to help with his continuing transfusion so ongoing prayers are still very much appreciated," she said.
Ulster Star
27/08/2010