Brian's American dream ends in disappointment
Doctors decide Moira boy too ill to travel to Florida
by JULIE ANN SPENCE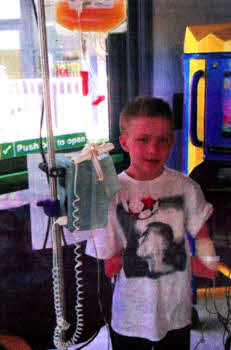 THE family of Moira boy Brian Kerr, who suffers from an extremely rare genetic blood disorder, have had to call off plans for a holiday of a lifetime after doctors ruled he was too ill to travel.
The Kerr family were preparing to jet off to Florida this week to make Brian's American dream come true but were devastated after doctors told them the young noy was too ill to travel. Friends and family had been busy raising money to enable Brian, who is the only person in Northern Ireland to suffer from Fanconi's Anaemia, to fulfil his dream to holiday with his family, but sadly now he cannot make the long journey.
Brian was diagnosed with the condition - which can lead to bone marrow failure - as a baby. He has recently become transfusion dependent. As his bone marrow does not work properly making new blood he feels tired and can bleed heavily.
The condition often leads to children suffering from birth defects and it can lead to serious health problems such as leukaemia.
The family had been getting ready to fly off on Tuesday (August 3) but found out just last Friday that pre-leukaemic cells had been discovered in Brian's bone marrow and as he was now dependent on platelet transfusions and could not travel on long haul flights.
Despite this devastating news Brian's mother Gaye decided the family would travel to London to visit Brian's young friend Joshua Fletcher, who suffers from Diamond Blackfan Anaemia and is currently undergoing treatment at St Mary's Hospital. While in London the family are planning to make the most of the trip and will also be visiting Wembly Stadium, making sure that Brian has as much fun as he can.
During the visit to London Brian will still have to undergo treatment and will be receiving transfusions at St Mary's Hospital.
We will try to do as much as we can when we are in London'" explained Gaye. "I would like to thank everyone who has supported us and who donated so generously to enable Brian to travel to Florida. It is devastating for the whole family that we cannot travel now but we will make the most of our time in London."
julieann.spence@ulsterstar.co.uk
Ulster Star
06/08/2010