Closing in on World title shot
BOXING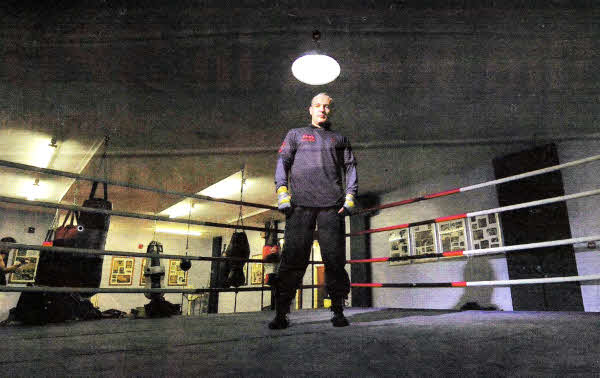 European Super Middleweight Champion Brian Magee during a workout at St.Agnes this week. Plc by Presseye.
HAVING conquered Europe by winning the European Super Middleweight title Brian Magee is edging ever closer towards a World tttle shot but one final hurdle remains at the National Stadium in Dublin on September 11 when he defends his European title against Roman Aramian in a the main event on the Hunky'' Dorys Fight Night.
Magee's sensational away triumph over Mads Larsen in Denmark to win the title has seen him recently installed as the WBA's number one contender at Super Middleweight ensuring that Aramian should prove the final obstacle ahead of a World title tilt.
Magee says his rise to the top of the WBA's ltst of contenders has handed him a major boost ahead of next months title defence. "My frame of mind could not be any better having heard that news, ' revealed the 35-year-old. "This adds even extra importance to this European title defence g against Aramian. What I have to do is concentrate on the 11th of September and not look beyond
this date. I'm well aware of other boxers who were in similar circumstances and then came a cropper because they looked too far ahead. I won't allow this to happen because I know that a successful defence of my title will guarantee me a World title fight next time up. If there are any worries on this score I am leaving them to my management, Pat Magee and John Rooney."
While Magee is happy to leave the outside the ring business to others he's fully confident of delivering between the ropes in Dublin. "If the sparring I have had is any indication of my form and condition then my fans are going to see something special again," said the champion. "I believe I can be even better than I was against Larsen. I feel that with Bernardo Checa's coaching I am still learning and improving and I will demonstrate that on the night.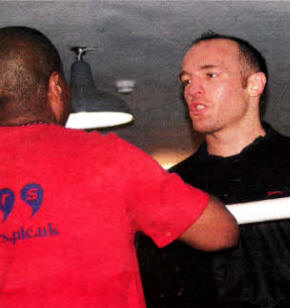 "My training camp for this ftght has gone extremely well," continued Magee. "In fact I would say it's probably the best preparation I have had for any fight. I think one of the reasons for this is the long rest I've had since the Larsen fight in January. The training schedule for that fight was particularly long with it coming over the Christmas period and there were interruption's due to the very cold weather but everything has run smoothly for this."
Magee's manager, Pat Magee says his fighter's preparations hale taken on an extra edge since he was installed at the top of the WBA ratings. "The news that Brian is now the WBA number one has given a tremendous boost to his whole approach," said Magee. "I have never seen him so happy in himself and the atmosphere in the camp is tremendous.
"He is so anxious to get on with it that there have been times when he has had to be reigned in by John Rooney, Bernardo Checa and Alex Docherty from doing too much in the gym. There is always the dan ger of a fighter going over the top but his team know what they are doing and I am sure it will all add up to a performance from Brian which will demonstrate that he is indeed ready for that World title shot and when the time comes, and that will be sooner rather than later." Magee believes his charge can secure an impressive win against Aramian and ultimately go on to secure a clash with the winner of the ongoing Super Six t4 tournament. "We are confident that Brian will win and do his country proud.
"We will be keeping a close eye on is the next round of the Super Six which culminates on October 2nd. At that stage two contenders will leave the stage. If they happen to be either Mikkel Kessler or Arthur Abraham then we could be looking forward to a mega fight with either of these two next year. Then of course the Super Six will conclude next September and if Brian continues to keep winning then I'm sure Brian can look forward to meeting the winner of the Super Six and wouldn't that be something to look forward to.
"Incidentally an added bonus for Brian is that he has been invited to attend the Mikkel Kessler — Allan Green Super Six fight in Denmark in September. I know that the Danes want to see more of Brian in action but for the time being we will be trying to keep him at home." A second European title clash on next month's Hunky Dorys Fight Night will see Kiko "La Sensación" Martinez returning to Dublin as he bids to recapture the European Super Bantamweight crown against Arsen Martirosyan.
Tickets for the Hunky Dorys Fight Night priced 40, 75 and 100 are available from Ticketmaster.ie / 0818 719300 or the National Stadium on 087 2511772, the Ticket Office on 086 8120135 or the boxers on the bill.
Ulster Star
27/08/2010