Brian one step from his `dream' world title shot
Stylish Magee eases through first Euro defence
by STACEY HEANEY
| | |
| --- | --- |
| | |
| Brian Magee celebrates his European super-middleweight title defence. Pics by Russell Pritchard / Presseye. | On the ropes....Lisburn boxer Brian Magee has Armenian fighter Roman Aramian on the ropes in the successful defence of his European Super-Middleweight title in Dublin. |
LISBURN boxer Brian Magee is on the cusp of a 'dream' shot at a world title, following his impressive defence of his European Super-Middleweight title last weekend.
Magee, who hopes to fight for the WBA crown late this year or early next year, romped to victory over German-based Armenian Roman Aramian at the National Stadium in Dublin last Saturday.
The Armenian failed to come out for the ninth round on the advice of the referee, with Southpaw Magee never looking in any trouble, having won every round on points.
Magee admitted that he was "relieved" to have the bout over with, as he now turns his attentions to a crack at the world tittle, with a fight with Dimitri Sartison for his WBA crown likely to take place in the New Year.
Magee said: "It was a lot on the line. It was the first defence too, so I was a bit more anxious and you push a bit harder, but it was a good performance."
Speaking about the forthcoming world title bid, Magee said: "Fingers crossed I can make an announcement soon; it's looking good." However, Magee seems to be afraid to tempt fate ahead of what he calls a 'dream' bout for the World Super-Middleweight title, adding: "It's very likely, but I've learnt not take anything for granted."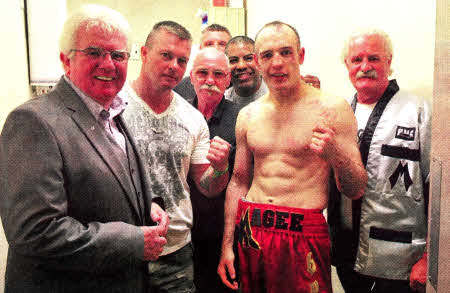 Magee celebrates with his team.
He continued: "You can feel the tension from everybody, the pressure is building up. The fight (against Aramian) was not just the first defence, it was also a world title bout on my shoulders. Without a doubt this is a dream, that's what every boxer works towards. Not everybody gets a world title shot; it's fantastic."
The Lisburn man was delighted to retain the title he won in Denmark in January, saying: "I'm chuffed, it's so gratifying to come back up rated Number One. It was pleasing for the whole fight to go well. I'm happy, I'm enjoying training," he said.
Next up on the agenda for Brian is a couple of weeks out to recover from "a few aches and pains" and "a few wee bruises," before he focuses on training for what will be the biggest bout of his life.
"At the earliest the fight will be at the end of November or December," he stated, "and at the latest it will be January, February or March. But it will likely be early New Year."
Magee was pleased with his performance in his title defence last weekend, stating: "I think
my performances are getting better, the last three performances have been good. My punches were good, the combinations were good and my movement was good, a lot of what I'd been working on in the gym came out on the night, which was pleasing."
He continued: "I knew how he fought, I knew how tough and durable he was and I knew it was going to be a hard 12 round fight. I caught him out four in a row and he just soaked up the punishment and I thought 'this is going to be 12 rounds' so I had to be careful with the energy I extended. I didn't know if he was reserving energy for an onslaught late on. You've got to think ahead, when somebody is in your face throwing punches around the ring it is mentally sapping as well as physically, but I didn't get caught with many punches. It was a good test and a great resuite. It was also great to see everybody down there, it was nice to see so many friendly faces."
| | |
| --- | --- |
| | |
| Magee on the attack in Dublin. | The Lisburn boxer is declared the winner. |
stacey.heaney@ulsterstar.co.uk
Ulster Star
17/09/2010