Aviation project gets off to a flying start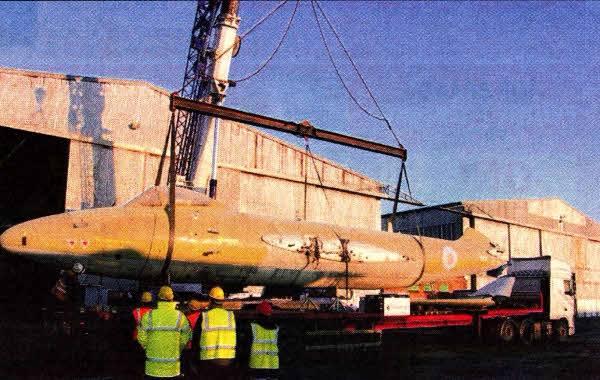 Canberra PR9 fuselage being unloaded
THE Ulster Aviation Society's (UAS) `Canberra Connections' project is off to a `flying' start which has seen a Belfast-built Canberra PR9 aircraft return home to Northern Ireland.
The return of the Canberra PR9 is part of a Heritage Lottery Fund (HLF) supported project to conserve and explore the heritage of the aircraft, which was manufactured by Short Brothers and Harland Ltd in the 1950s. With the aircraft's arrival at the Society's base, a scheduled World War 2 hangar on the former Long Kesh airfield, it has become only the second complete Canberra PR9 on display in a UK museum.
Commenting on the Canberra's homecoming, Paul Mullan, Head of HLF Northern Ireland, said: "The arrival of the Canberra PR9 in Northern Ireland is testament to the hard work and dedication of the Ulster Aviation Society. It's fantastic to think that Northern Ireland will be one of only two places in the UK where people can see this aircraft on public display and shows once again the huge importance of Northern Ireland's industrial heritage, not only at home, but on the international stage."
In addition to the acquisition and conservation of the Canberra, the project will research the history of the aircraft, including the memories and experiences of local people involved in its production, maintenance and flying.
Up to twenty volunteers will be involved in a series of outreach activities including the delivery of illustrated lectures and tours.
The publication of a booklet and educational leaflets and the production of a DVD is also planned to share this heritage with the wider community and raise awareness of its importance.
Ulster Star
24/12/2010