Lisburn backs calls for compulsory carbon monoxide monitors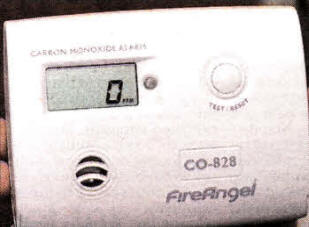 LISBURN has thrown its weight behind a call by Newtownabbey for legislation to make it compulsory that carbon monoxide monitors are fatted when appliances are being installed.
Newtownabbey Council is asking all the other 25 councils in Northern Ireland to write to the Office of the First Minister and Deputy First Minister asking for a new law which would make it mandatory for a monitor to be fitted when gas appliances were being installed.
However Councillor Jenny Palmer, who is also a representative on the Northern Ireland Housing Executive Board, pointed out it is not simply gas which poses the risk of carbon monoxide poisoning.
Mrs Palmer also added she believed the letter should be sent to the Department of Finance and Personnel.
Lisburn councillors also agreed to go one step by urging the Housing Executive, Housing Associations and landlords to make a leaflet drop offering people advice.
The proposal was put forward following the tragic deaths of two 18-year-olds in Castlerock in August. Discussing the issue at the monthly Council meeting, Councillor Palmer said:
"It is not only gas that causes a problem, but open fires, glass fronted fires, wood pellets, Natural or LPG Gas or Oil. The letter is not strong enough and doesn't highlight the problem of all fossil fuels, so we need to amend it."
Concillor Palmer added: "This is a really serious problem in terms of what is happening.
Alderman Cecil Calvert added: "My concern would be stoves and heaters which may be in for some years. Perhaps if there was a leaflet drop to remind people to ensure flues are kept clean, especially for the elderly who either forget or don't know they need to be cleaned once a year; anything we can do to draw attention and ensure the legislation is changed must be wrothwhile."
Councillor Andrew Ewing commented: "There is no doubt the recent tragedy in Castlerock has highlighted the dangers of carbon monoxide in the home and it is vital that we as a council do what we can to highlight this silent killer to help prevent it claiming another life.
"Carbon monoxide detectors are an excellent idea and undoubtedly will save lives particularly during the night when people are sleeping and unaware of any danger."
Ulster Star
10/09/2010