Cathedral time capsule gets set to give up its secrets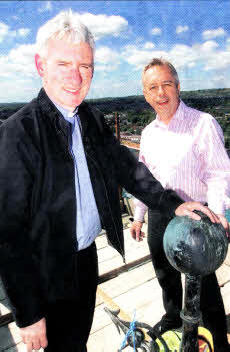 A TIME capsule believed to have been placed in the spire of Lisburn Cathedral between 1929 and 1931 is set to be be opened to reveal more about Lisburn's history.
The current renovation and restoration works underway at the Cathedral will allow access to the capsule and promises some clues as to what life in Lisburn was like during that time.
It is understood that Frank Pettrigrew Jewellers, then located on Bow Street close to the site currently owned by Greens, created specifically engraved coins which were placed in the weather vane at the top of the spire along with a newspaper from that day.
The vane, which was created by Thomas J Hanna, a Blacksmith from Graham Gardens, has done its duty for almost 200 years at the highest point in Lisburn, but now needs refurbished as part of the restoration and renovation of Lisburn Cathedral.
Des Cairns, of Greeves Kelly Cairns Architects, who will be instrumental in the removal of the existing weather vane, explained how this must be done with sensitivity and care.
| | |
| --- | --- |
| | |
| Steeplejack James Crangle with the vane when he removed it for renovation in 1931. It had then been in place for over 100 years | Work on the same spot in 1931 when the two steeplejacks can be seen without the benefit of today's scaffolding. |
He said: "The weather vane is in fact a work of art, hand beaten in copper by skilled craftsmen. Whilst it has seen many seasons and events it could be very easily damaged if not treated with the care it deserves, this is why we are also working in conjunction with conservation specialist Chris McCollum. Unfortunately the skills which created the weathervane are no longer available in the Lisburn area and in fact it likely that we will have to transport it to Dublin for refurbishment." Canon Sam Wright, Rector of Lisburn Cathedral, said: "Being on the scaffolding so close to the items which were hidden away many years ago is a bit like Indiana Jones getting close to finding the Lost Ark of the Covenant. The Israelites took the broken pieces of the Tablets of the Ten Commandments and put them into the Ark of the Covenant and it was hidden away for many years. In the movie Indiana does on a quest to find the treasure, that s what we're about, looking for the 'treasure' hidden away in the Cathedral Spire.
"The exciting thing is that we then also have the opportunity to store away 'treasures' from 2010 so that others in future generations can also enjoy the thrill of searching and discovering something about life in the Cathedral and the City of Lisburn today. Another little bit of history making right in the centre of Lisburn Historic Quarter."
Ulster Star
04/06/2010