Now 'Good Spud' Ceara needs your support
LISBURN WOMAN NOMINATED AS AN UNSUNG HERO IN PROVINCE WIDE COMPETITION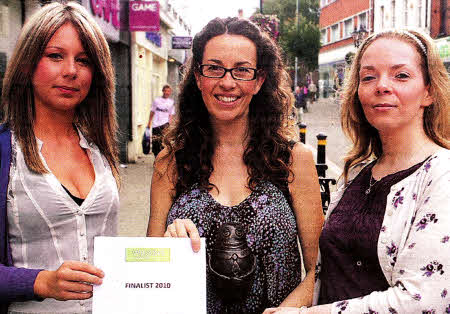 Wilson Country's Robyn McWhirter presents the `Good Spud' trophy and restaurant voucher to local winner Ceara Gallagher, alongside the Ulster Star's Stacey Heaney.
LISBURN woman Ceara Gallagher has been hailed as a top potato by local readers in the 'Good Spud Awards' which have been organised by leading potato brand, Wilson's Country, in a bid to recognise the province's unsung heroes. Speech and Language Therapist Ceara, who worked at the ICAN Centre in Ballynahinch, a specialist unit which helps nursery children with speech and language difficulties, scooped the award for Co Down having been nominated by readers of the Star for her dedicated work with children and parents at the centre. She receives a trophy and a £100 meal voucher for the restaurant of her choice.
Now Ceara will now go forward to the final of the competition, where she will take on her fellow regional winners in a bid to win a £2,000 holiday.
Ceara was thrilled to have been nominated for the award bur insisted on paying tribute to the parents whose children attended the centre, saying they deserved the recognition following their sadly unsuccessful attempts to save it from closure in the midst of funding cuts.
Speaking about the award Ceara said: "I'm completely overwhelmed and really humbled by what they've done; to think of me that way. I don't think I deserve it, I really feel they deserve it for their commitment to their children and the sacrifices they make each year for themselves and their family; they are so dedicated to making the most for their children."
Looking ahead to the prospect of winning the overall 'Good Spud' Award, Ceara added: "To be honest, that would be amazing, but the fact that the parents nominated me is enough and whatever happens afterwards will all be a bonus."
Ceara (37), who has been on maternity leave since June 5 having given birth to her son Luca on July 12, was with the ICAN Centre since its inception ten years ago. Having helped preschool children to find their voices over the years, as well as having fought for the past four years to save the centre amid funding difficulties, parents at the centre were keen to praise Ceara for her commitment to the children, parents and the centre.
One parent said: "She is so passionate helping the children. She always goes the extra mile." Another added: "The children love her, the parents love her and our children who start off life mute or with very little speech flourish under her care. I can never thank her enough."
Ceara continued: "The parents are really special people, I can't tell you the amount of support I received from them. The campaign to save the centre this year was second to none.
"We had a motion tabled at the Assembly, we had cross party support, we had great support from the MP Jeffrey Donaldson and MLAs as well as great support from Heather Crawford, my Manager and Lorraine Coulter, the Team Leader.
"Unfortunately, I think we've lost the nursery, which I've found extremely difficult. I am so disappointed, but it was a situation where we tried every avenue.
"Unfortunately, future children who deserve to have that avenue available to them will not and it's a great loss. It's just unfortunate that it is those vulnerable children who always have to lose out and lose their voices, and still the parents are lobbying, I know they will be going to the Commisstoner for Children and Young People, Patricia Lewsley to see if they can do anything."
Whilst Ceara will retain her post, having been employed by the Trust, the other three staff members at the centre have been made redundant.
And ever dedicated, Ceara has vowed to help the children as best she can despite the funding cuts. She concluded: "I can't say enough how supportive the Trust have been throughout ICAN. I'd also
like to thank the parents, not just the parents who nominated me, but all the parents throughout the ten years for their commitment to their children and ICAN. They have been fantastic and have made my life easier with their support. With people like them I believe anything is possible; maybe one day we'll even get ICAN back."
stacey.heaney@ulsterstar.co.uk
Ulster Star
03/09/2010