Local trailtrekkers complete charity Oxfam challenge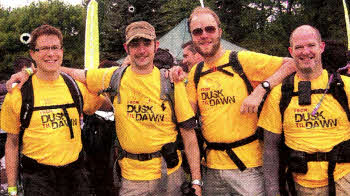 FOUR local men who took a step into the unknown last month have raised over £3,000 as part of the Oxfam Traiiterekker Challenge.
Mark Doak, Colin and Jeff Smith and Chris Hill, joined over 100 teams on the 100km trek, which saw them walk through the night on September 4 and 5, beginning in Donard Park and finishing 31 hours and 28 minutes later in Carlingford.
Lisburn man Mark said it was a "massive relief" for the four friends to complete the challenge, which has so far raised over £3,000 with more funds still to be collected, far surpassing their target of £2,000.
Mark commented: "We started on Saturday morning at 8am and we finished on Sunday at around 3.30pm. It was a massive relief to get finished. There were quite a few tricky stages in the middle, but we helped each other get through and by sheer grit and determination we did it, we just thought, 'we can't let anyone down.'"
Mark added: "It was a wonderful experience for all of us. I am really proud of myself and the team. I couldn't have asked for better guys to have done this with. We had a great support team and we kept each other going."
The team are now recovering from blisters, however they were delighted to complete the challenge and were keen to thank those who had so generously donated.
Mark said: "I'm so impressed with how much we have raised and by people's generosity. I'd just like to thank everyone who supported us and who donated." Anyone interested in contributing to the team's fund can still donate via https://netbel.oxfamireland.org/netcommunity/doaky.
Ulster Star
10/09/2010