Christmas is coming to Lisburn at the speed of light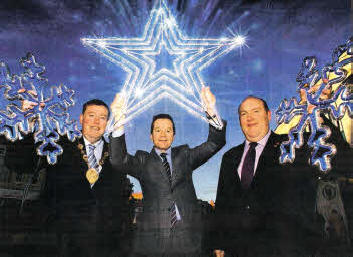 Helping Lisburn's Mayor, Alderman Paul Porter and Chairman of Lisburn City Council's Corporate Services Committee, Councillor William Leathern, Light up Lisburn for Christmas is Peter Morris, Consumer Director, BT. BT is sponsoring this year's Christmas Lights Switch on event in Lisburn City Centre.
LISBURN City Council will light up Lisburn on Friday 19th November at its annual Christmas Lights Switch On event, with assistance this year from BT.
The theme of the event 'Lisburn Lights up for Christmas' embraces 1he magic and sparkle of Christmas with its fantastic Parade of Lights, featuring almost 200 school children with their beautiful handcrafted lanterns. Exquisite optiscopes, winter fairies, divine LEDs, magical stilt walkers and illuminated carnival performers form the parade that will see Santa's first appearance in Lisburn this year.
Welcoming BT's sponsorship, the Mayor of Lisburn, Alderman Paul Porter, said: "The Council is delighted that BT is supporting our Christmas Switch On event and promoting exciting technological developments to our City. BT's new super-fast fibre optic broadband service, BT Infinity, is set to transform consumer experience in the Lisburn area to the benefit of all Internet users. We are looking forward to working with BT on this event."
Peter Morris, Consumer Director, BT said: "BT is delighted to support Lisburn Lights up for Christmas, a fantastic family event that officially launches the festive season in Lisburn. We are also excited that so many of our customers in Lisburn are choosing BT Infinity, our new super-fast fibre optic broadband with our most powerful connection to the Internet and offering download speeds of up to 40Mb. Whether you're big on social networking, gaming, streaming, uploading or downloading, BT Infinity can transform your life.
"Our BT Infinity Bus will be visiting Lisburn from 27 November to 1 December and we would wejcome everyone to step on board and experience the benefits of fibre optic broadband for themselves." The evening's entertainment will start with street entertainment in Bow Street from 6.30pm with 1he parade making its way up Bow Street at 6.45pm.
The parade route will leave Christ Church moving to Market Street, Bow Street, Market Square and Smithfield Street before making its way back to Chris1 Church.
The schools taking part in the 2010 lantern parade are: Brownlee Primary School, Friends' Preparatory School, Oakwood Integrated Primary School, Rowandale Integrated Primary School, St. Aloysius Primary School and Tonagh Primary School.
Fort Hill Integrated Primary School choir will lead the carol singing and the Mayor will be joined on stage by the winner of his Christmas Poetry Competition, who will help Alderman Porter turn on the Christmas tree lights and the Christmas lights in the City Centre. The Mayor's Charity, The Carers Forum on Learning Disability, will be carrying out a collection at the event to support their activities in the Lisburn area.
For further information on the Christmas Lights Switch On please visit www.lisburncity.gov.uk
Ulster Star
/2010