Top award for Ciara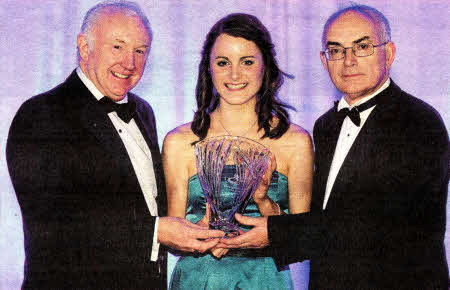 Lisburn AC athlete Ciara Mageen receives her award in Dublin.
Ciara Mageen, City of Lisburn AC, Co. Antrim, was recently named winner of the Emerging Athlete of the Year Award at the 4th annual Athletics Awards in Dublin. The awards, in association with AAI sponsor Woodie's DIY, took place in the Crowne Plaza Hotel in Santry and saw 12 awards presented on the night.
Ray Colman, Chief Executive of Woodie's DIY said, As an Irish owned company we are delighted to be so closely associated with Irish Athletics, a sport which has provided us with some of Ireland's greatest sporting Irish moments. As the premium brand in the home improvement market, we appreciate the talent, dedication and support needed to compete at the highest level and we are delighted to congratulate Ciara on this accomplishment."
Ciara Mageen is pictured receiving her Tipperary Crystal award at the AAI awards ceremony with (from left to right): Ray Colman, Chief Executive Woodie's DIY; Ciara Mageen, City of Lisburn AC, Co. Antrim; Liam Hennessy, President of Athletics Ireland
Ulster Star
03/11/2010