Artistic partnership celebrates another 'reel' success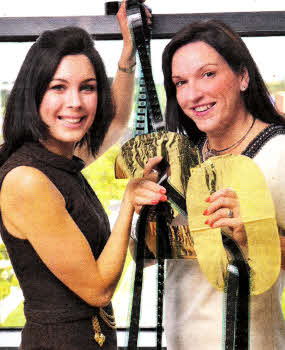 Erica Roseingrave, Public Affairs and Communications Manager, Coca-Cola HBC and loan Burney Keatings, Chief Executive, Cinemagic celebrate the success of their partnership ahead of the launch of the 20th Anniversary of The Coca-Cola Cinemagic lnternational Film and Television Festival for Young People on September 16.
CINEMAGIC International Film and Television Festival for Young People and Coca-Cola are celebrating the continuation of their partnership ahead of the highly anticipated launch of the 20th Anniversary Cinemagic Festival on September 16 in Movie House Cinemas. Cinemagic has developed a worldwide reputation for excellence in young people's programming and the 20th Anniversary Festival, that takes place from November 11-26, is guaranteed to enthral fill fans of all ages.
Action packed with more than 150 film screenings from all over the world and 16 days of workshops, competitions, masterclasses and exciting film related events for schools, young people and families, the festival aims to inspire, entertain, motivate and create opportunities through the medium of film and television.
Joan Burney, Cinemagic Chief Executive said: "Cinemagic has enjoyed a mutually beneficial relationship with Title Sponsor Coca-Cola for four years and we are delighted to be able to continue working together and developing the relationship further in 2010, Cinemagic's twentieth anniversary year. In January, our partnership was Highly Commended in the Arts, Business and Sustainability category of the annual Arts and Business Northern Ireland Awards which is testament to the work involved in nurturing the partnership each year. Building on the success of last year's festival, together we are able to increase and diversify the range of festival events on offer to young people and in doing so create opportunities for interaction between young people enabling a deeper understanding for cultural difference.
Erica Roseingrave, Coca-Cola HBC, Public Affairs and Communications Manager said "Coca-Cola is proud to maintain its successful partnership with Cinemagic by continuing to sponsor the Cinemagic International Film and Television Festival for Young People for the next three years. This year's festival will once again provide participants with the opportunity to gain hands-on experience in many arts based disciplines, giving a unique insight into the world of film and television and showcasing the many and varied talents of the young people of Northern Ireland.
"We are delighted to support activities for the 12 - 25 age group such as the exciting range of movie screenings and the masterclass programme for 16 - 25 year olds, which provides a fantastic opportunity for young people to learn and gain experience from industry experts in a variety of cinematic and media disciplines."
Ulster Star
27/08/2010