Cinemagic Lisburn gets off to a flying start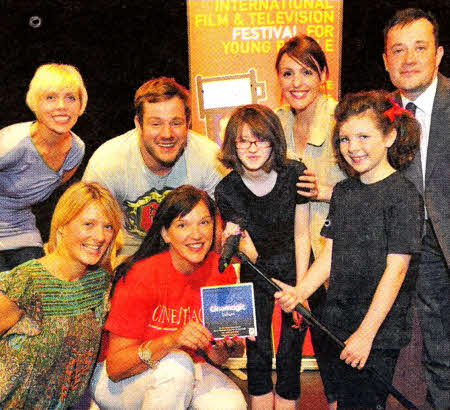 Representing Lisburn City Council as the main funder of 'Cinemagic Lisburn', Councillor Archer, Chairman, Leisure Services Committee is pictured with (1-r) Laura Carlisle, Cinemagic, actor-presenter Anthony Crank, Sarah Walker, actress and Cinemagic patron Suranne Jones, (front row) Claire Harrison, Joan Burney Keatings and Halla Gormley-Heenan at Island Arts Centre during the Cinemagic Stars acting masterclass at which young people aged 13-18 developed their acting skills over two days and performed a special production of Hairspray.
LISBURN City Council and Cinemagic have marked the opening of a week long festival for young people in Lisburn, which runs until June 25, with a special red—carpet preview screening of Oscar nominated and award winning animated feature film The Secret of Kells, directed by Tomm Moore and a 3 day intensive acting masterclass 'Cinemagic Stars' at which actress and Cinemagic patron Suranne Jones and actor-presenter Anthony Crank made a special appearance.
The red—carpet screening on Monday evening (June 21) in Lisburn Omniplex was attended by lots of young film enthusiasts looking forward to the week long series of film events, and budding actors aged 13-18, enjoyed the 3 day acting masterclass 'Cinemagic Stars' where young people had the chance to develop their acting and musical theatre skills before staging a unique production of Hairspray for family and friends.
Councillor Archer, Chairman, Leisure Services Committee, Lisburn City Council said: "Lisburn City Council is proud to be funding its second Cinemagic Lisburn, Film Festival for Young People so that they may be inspired to develop their talent and interest in this exciting and multifaceted business." Joan Burney Keatings, Cinemagic Chief Executive said "Cinemagic is delighted to be working again in partnership with Lisburn City Council, to bring new opportunities to the young people of Lisburn, where they can have fun and learn in a creative environment".
There is still time for falm fans of all ages to enjoy the festival as the classic adventure film Raiders of the Lost Ark (PG) rolls in to Lisburn Ominiplex on Thursday June 24, at 7.00pm.
Tickets cost £3.50 and can be purchased on the door thirty minutes prior to the screening.
For further information contact colm@cinemagic.org.uk or Tel 028 90 311 900.
Ulster Star
25/06/2010