Prestigious exhibition for local artist
by JULIE ANN SPENCE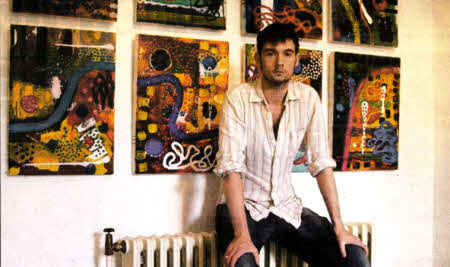 Lisburn Artist Clinton Kirkpatrick with some of his work. US4310
LISBURN artist Clinton Kirkpatrick is preparing for the most prestigious exhibition of his career when his work goes on display at the Ulster Hall next week.
Clinton, who is based at the newIy estabIished Market Square Studios in the city centre, grew up in Lisburn and went to school in the city before moving away to study art full time. He has since returned to his hometown and has been developing his work, making a name for himself as an exciting young emerging artist.
"Two years ago I moved home to firmly place some roots with my career," explained Clinton. "I am a painter where my work takes on many forms/styles underneath that 'umbrella'. I have two bodies of work, abstract and fagurative, that I work on simultaneously."
Clinton has taken part in numerous group exhibitions and has also exhibited as a solo artist at various galleries, including Studio 23 in Derriaghy. the Safehouse Gallery in Belfast and The Media Centre in Huddersfield.
Clinton's latest body of work will be exhibited in the Ulster Hall in Belfast next week and will run for the month of November. Entitled `Imagined Reality', the exhibition opens on November J and includes new paintings alongside selected paintings from his last exhibition `Through the Eyes of The World'.
"This exhibition was offered to me through an application I made six weeks ago," continued Clinton. "It very much came out of the blue and I have worked hard to create a new body of painting.
"The exhibition marks a signifacant part of my career for me," he went on to say. "It is the first time I have held an exhibition in an established place and so feel very honoured to be offered the space. Now I am at the point of wondering what the comments will be about the work."
The exhibition runs for the month of November and a reception evening to mark the opening of the exhibition will be held on Thursday November 4 from 7pm-9pm.
For further information about Clinton and his work log onto www.clintonkirkpatrick.com.
julieann.spence@ulsterstarco.uk
Ulster Star
29/10/2010