A bursary and a smile
COCA-COLA AWARDS FOR YOUNG PEOPLE
by JULIE ANN SPENCE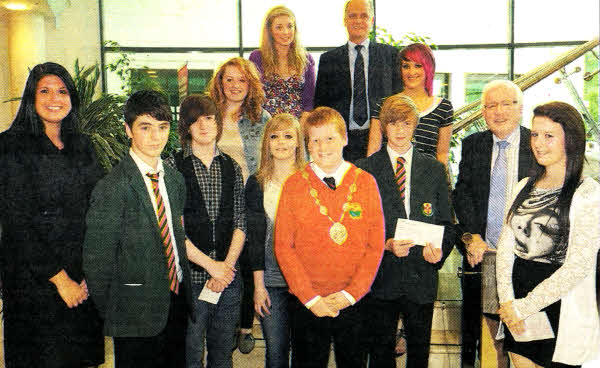 Pictured at the presentation of the 2010 Lisburn City Council Coca-Cola Bursary Awards to the winning young people are (front row I-r): Mrs Gillian Shields, Public Relations Executive NBC Northern lreland; Jack McMullen; Richard Allen; Caroline Black; Matthew Millar, Mayor for the day; Matthew Getty; Councillor Allan Ewart, former Mayor of Lisburn; Samantha Crocker and (back
EIGHT local young people recently got a financial and inspirational boost from the Lisburn City Council Coca-Cola Bursary Award scheme.
The lucky recipients of the Lisburn City Council Coca-Cola Bursary Awards received their gifts during a presentation held recently at Lagan Valley Island.
The former Mayor of Lisburn, Councillor Allan Ewart and Gillian Shields, Public Relations Executive HBC Northern Ireland, presented the bursary cheques to the lucky young people who received them to help them progress and develop their talents and/or skills.
These bursaries offer financial support to talented young people from the Lisburn area to enable them to develop their skills in a variety of activities. The eight who received bursaries to achieve their ambitions displayed talents in a variety of disciplines from art to sport to music and community work.
Young artist Jack McMullan, who attends Friends School, received a bursary to attend a two-day course with Northern Ireland metal sculptor Kevin Killen, where he will learn to weld, solder, saw, pierce and hammer metal to create his own art pieces.
Hunterhouse College student Samantha Crocker, who represented the UK in Canada in 2009 as part of the Army Cadets Shooting Team, has been selected to represent the NI army cadets at events in 2010. She will use the bursary to attend a coaching course and competition to improve her skills. Samantha is ranked 37th in the UK and 2nd in Northern Ireland for rifle shooting.
Matthew Getty, a Friends School pupil, has represented Ulster in badminton in the Under 11,13,15 and 17 teams having won numerous titles whilst competing in UK tournaments. He has played at events in Denmark, Belgium, Germany and Sweden. Matthew required the bursary to take part in Ulster Badminton High Performance sessions under the guidance of coach Tom Causer.
Katie Reid, a very talented swimmer and a member of the Ulster squad, Irish Schools and Irish 2012 squads is a student at Hunterhouse College. She hopes to participate in the 2010 Olympics representing Ireland. Katie holds the Ulster Junior record for 50m Backstroke. She required the bursary to attend a high performance athletes, course at Queens to improve her training programme.
Caroline Black, who also attends Friends School, has represented Ireland three times at Under 15 level and twice at Under 17 level in the field of badminton, in addition to representing Ulster at Under 15 level. She required the bursary to assist with the cost of her training within Ulster and training with an elite squad led by an English coach. Caroline is currently Under 17 mixed doubles champion, silver medallist in Under 17 Girls Singles and has been nominated to be a reserve at the 2010 Commonwealth Games.
Richard Allen, from Wallace high School, is a talented musician who specialises in playing the harp. He aims to achieve Grade 8 in both Traditional and Classical Harp by the end of 2010. Richard required the bursary to put towards the cost of a Classical Harp, as currently he is unable to access one on a regular basis. He intends to pursue a career as an orchestral musician, specialising in the classical harp at the 'Conservatoire National Supérier de Musique' in Paris.
Holly Gault, who lives in Lisburn and attends Lurgan College, is a registered deaf teenager who is actively involved in cross-community work through her church. She has also delivered presentations to parents of children with hearing difficulties on behalf of the National Deaf Children Society. Holly required the bursary to avail of a once in a lifetime opportunity to travel to Uganda to work with underprivileged children. On her return, she would use her experience as an example of how goals can be achieved by those with special needs.
Holly's sister, Ashleigh, who attends Stranmillis University College, also received a bursary. Ashleigh is very involved in community service work. She volunteers at a cross-community drop in and programme centre, at a special needs programme and has travelled to Africa and the Philippines to volunteer at a school and hospital. Ashleigh required the bursary to travel to Uganda to work in the local community; the trip would involve working with kids clubs, building work and working in orphanages."
Speaking after the presentation a spokesperson for Lisburn City Council said: "Through this scheme, the Council and Coca-Cola hope to support life-changing opportunities for the young people of the City. Young people are the future of Lisburn and it is great to be able to support you as you pursue your ambition and strive to become the best in the sport you play, the art that inspires you or the community you work for."
julieann.spence@ulsterstar.co.uk
Ulster Star
13/08/2010