Community Circus flying high with trapeze training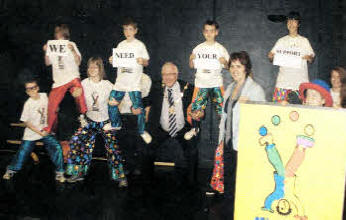 Lisburn Mayor Allan Ewart and Chairman of the Council's Economic Development Committee Jenny Palmer support Community Circus Lisburn.
COMMUNITY Circus Lisburn (CCL) young people were thrilled that so many of their local elected representatives juggled their busy schedules to support the circus in introducing trapeze to Lisburn.
The project of bringing aerial work into CCL is called 'Defying Gravity', and was formally opened by the Mayor of Lisburn, Councillor Allan Ewart, on Tuesday, June 1 at a CCL Open Night in the Studio Theatre at the Island Arts Centre. The six trapezes, now installed in the Island Arts Centre, were paid for by The Big Deal, a Lottery funding programme from which the CCL young people, represented by 15-year-old David Hunter, received a grant of £2500.
CCL, in partnership with the Island Community Arts, have now introduced trapeze work into their already extensive repertoire of skills including unicycle, juggling, stilt walking, diabolo, and acrobatics. In the whole of Northern Ireland, Lisburn is now second only to Belfast in terms of the variety of circus activities on offer to local young people.
The great turnout out for this fun Open Night illustrates the broad local support for the cross-community work of Community Circus Lisburn.
Mr Jackie McQuillan, Chair of CCL, said: "We first introduced circus training to Lisburn in 2002 with a few activities and now we have expanded to become among the first in Ireland to offer local young people circus training in trapeze. I would like to thank the Mayor of Lisburn, Cllr Allan Ewart, and the Chairman of Leisure Services, Cllr David Archer, for formally launching our new trapeze project. I would also like to thank all our other guests, including Deputy Mayor, Alderman Paul Porter, Alderman Edwin Poots MLA, Cllr Jenny Palmer, and Cllr Brian Heading, for coming tonight and look forward to their ongoing support and encouragement as CCL continues to grow and develop."
For more information, or an application form, please contact Community Arts Officer, Louise Smith, on 9250 9509 or email louise@island.lisburn.gov.uk.
Ulster Star
18/06/2010