Major cross border deal on composites for new utility vehicle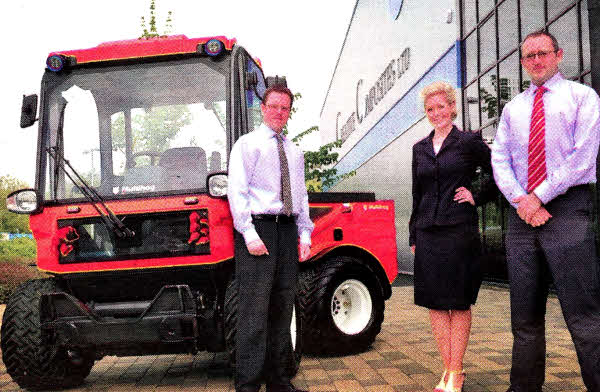 Launching Multihog, left, James Graham, marketing manager of Creative Composites, Lisburn; Ruth McAdam, director, Multihog, Dundalk; Jonathan Holmes, commercial director, Creative Composites, Lisburn.
LISBURN firm Creative Composites has won a contract to design and manufacture components for a radically new multi-purpose utility vehicle developed by Dundalk-based Muiteihog Ltd.
Creative Composites, one of the UK's leading manufacturers of composite components, will supply the complete range of interior and exterior body panels for the ground breaking vehicle.
The Multihog MH90, now being marketed extensively by the Co Louth manufacturer, is a unique vehicle designed for a wide range of applications including ground maintenance, farming, hedge cutting and snow blowing. The four-wheel drive Multihog has extensive lifting and towing capabilities and features scope for a wide range of attachments.
Jonathan Holmes, Commercial Director at Creative Composites, commenting on the latest contract won by the company, said: "We are delighted to be working with Multihog on what is a remarkable vehicle. Creative Composites was the ideal partner for this project as we used the latest engineering software and our state-of-the-art manufacturing facility in Lisburn to develop components. "This technology enabled us to produce exterior panels and other interior components for Multihog in record time, a critical factor in the vehicle's successful launch. Multihog has benefited from our expertise in the design and manufacture of composites for automotive industry leaders which allows us to supply robust but lightweight components".
Ruth McAdam, Multihog Director, who set up the business with father Jim 18 months ago, said: "Multihog is the Swiss Army knife of multi-purpose vehicles. It was designed to
offer local authorities and other operators a robust and highly innovative vehicle that would offer a total solution for a broad range of operations."
Ulster Star
11/06/2010