Local people urged to help soldiers' charity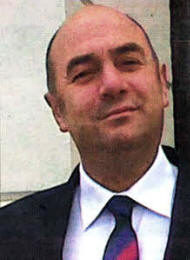 THE new Regional Director of the Soldiers' Charity in Northern Ireland - ABF - is encouraging local people to volunteer with the charity.
A retired member of the Royal Military Police David Forsey, who was born in Yorkshire but spent much of his career stationed in Lisburn's Thiepval Barracks, has taken over the directorship from Col Derek Smyth, and he is hoping to use his contacts in the city to encourage local people to get involved in the work of ABF.
"I joined the Royal Military Police in June 1980 and graduated from the Royal Military Police Training School that December'" explained Mr Forsey. "In 1983 I was posted to 1 Regt RMP in Lisburn and worked with the Police, Courts and the Post Office. Northern Ireland people have a great deal in common with Yorkshire folk and I made many friends in all sectors of the community"
He left Northern Ireland in 1985 but after postings across the globe returned to Lisburn in 1998. "I was able to rekindle old friendships and meet up with former RMP colleagues whom had joined the Police," he continued.
"In 2003, I moved a Logistic Role within Thiepval Barracks and later that year was saddened to hear of the deaths of nine colleagues in Iraq, including my friend Maj Matt Titchener, whom had been Adjutant of the RMP in Lisburn.
With friends and colleagues, both serving and retired, and with help from the Police and local community, I was able to raise £23,000 for the families of those nine colleagues." David received a GOC's Commendation for this from Lt Gen Sir Phillip Trousdell in 2005.
"I combined a posting to the Army Careers Office in Palace Barracks that year with a course of study at Queen's University, where in December 2006, I graduated with a Diploma in Conflict Studies" David said. "I returned to Thiepval Barracks in 2007 and retired from the army on August 1, 2010 after 30 years and 47 days service."
Mr Forsey is determined to increase the profile of ABF - The Soldiers' Charity (formerly the Army Benevolent Fund) and to get local young people involved in its activities.
"I will be travelling around clubs, associations and churches giving presentations on the ABF, explaining what we do, who we help and how we help them'" he explained. "Currently' we help 4000 soldiers a year nationwide — we work with soldiers' own Corps and Regiments and fund modifications to living areas for those who are disabled, offer education bursaries for former soldiers to retrain and find employment, help with nursing home fees for the most vulnerable and give assistance with cases hardship due to the recession or when unemployment is high.
"We also help the families of soldiers and former soldiers who are suffering bereavement or experiencing financial difficulty. Our motto is 'For Soldiers, For Life' and we mean it."
He is already looking forward to an ambitious fundraising effort taking place next year when Andy McMenemy, the son of a former soldier and a keen athlete who hopes to break the world marathon record, takes on Challenge 66.
Andy's attempt to smash the record of 52 marathons will begin next year and in May 2011, he will run five marathons in Armagh, Belfast, Lisburn, Londonderry and Newry over ftve days as part of this 66 marathon challenge. Andy is aiming to raise £1 million for the charity and Mr Forsey is hoping that local businesses will help in the fundraising drive.
'A large part of me taking the job was my love of Northern Ireland' he added. It is certainly the United Kingdom's best kept secret with its beautiful countryside and coastline, rich traditions and incredibly warm and friendly people."
julieann-spence@ulsterstar.co.uk
David Forsey
Ulster Star
20/08/2010