Fantastic year for Haire
by ANDREA CAMPBELL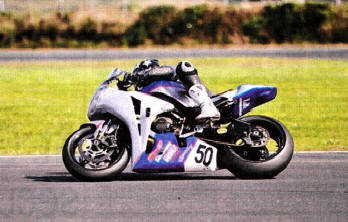 David Haire in action. Pic by Trevor Graham.
The 2009 and 2010 seasons have proven to be two fantastic years for young but ever maturing Lisburn rider David Haire.
He won the Ulster Superbike Championship, third in the Irish Superbike Championship, had podium finishes at the Mondello Masters along with over 25 other podium finishes, all at lap record pace on the Irish circuits as a privateer up against Superbike teams.
The Lisburn man runs his privately backed Honda Fireblade Superstock on a limited budget thanks to the help of his family, especially, mum Tracy, dad Robbie and sister Laura, friends and his loyal sponsors.
Now the busy 2010 season is finally ended, albeit abruptly, Haire would like to take this opportunity to thank everyone who helped him throughout the season, including Geoff Gorman Plastering and Building Lisburn, Colin Haire from Electrical Wholesale Express, Richard Maze and Chris Free and of course product sponsors, including Silkolene Oils, NGK spark plugs, Dunlop tyres, TCX boots, RST leathers, Holeshot MX and other invaluable help and support including Lisburn City Sports Council, James Courtney Graphic, Davy Tougher from DT Tyres Lisburn and of course not forgetting travelling companion and fellow ISB competitor Gareth Evans and his father Joe for all their help and support.
This 2010 season ended with a major upset at the sunflower meeting, were on the practice day in the Superbike class competing against the British Superbike and World Supersport riders, Haire suffered a major high speed crash suffering a severe dislocated right pelvis and femur and major muscle and ligament damage. It was a bad end to what was a fantastic two years for a team run by himself and family, especially after finishing p5 overall on the Thursday just behind factory riders and team, Michael Laverty, Alastair Seeley, Marshall Neil, Ian Lowry and ahead of riders John Laverty, Barry Burrell, James Westmoreland, Billy McConnell, James Ellison and Sam Lowes, all of whom are paid factory riders.
David said; " it's been a great two years, as a rider and athlete you always expect and want more, but with a very low budget on a bike you can get out of the show room against tuned Superbike motorcycles I proved my talent, ability and skill to muscle a 1000 bike about. For sure the Sunflower was a major disappointment; it's not what I wanted for my loyal family, friends and sponsors, and a chance to mix it with factory teams and riders. I feel I have proved myself to everyone its time Ito get some financial assistance to help upgrade my motorcycle and get some opportunities on a bigger scene.
All I can do is keep sending out emails making phone calls and hope somebody out there helps me, I thank all my sponsors, family, friends and everyone involved with the racing MCUI etc. and Andrea Campbell for help with the PR, its been a great help and experience and no matter what not possible with out them. I look forward to what 2011 brings."
Arnott ready for action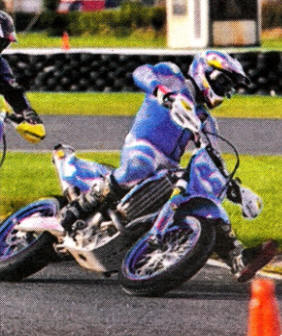 This Saturday, November is the final round of the P&O Ferries Winter Supermoto Series 2010, held at Kirkistown Race Track, where Moira rider Steven Arnott will be in action alongside Championship leader and reigning P&O Ferries Winter Supermoto Solo Champion, David Farmer.
Smokin' Slicks businessman Stevie McDonald will be hoping to make the action on Saturday having missed the opening round due to injury. While Shaun Anderson and Campbell Stewart will be hoping to gain more points in the Solo Clubman's Championship.
On the quads and it will be Mark Troughton, alongside the Mackin's, Terence and Emma and the Donnelly brothers, Mark and Lee who will be hoping to knock reigning P&O Ferries Winter Supermoto Quad Champion and championship leader Justin Reid of this winning perch.
Practice gets under way at 9.30am on Saturday morning with the first race of the three sets of Championship racing for the Solo Clubman's and Prestige and Quad commences at 11.00am.
The two P&O Knockout Challenge races will be held after the main championship has been decided and a Prize-giving will be held in the Club House approximately 30 minutes after racing, all are welcome.
Admission is £5.00 for adults and £3.00 for senior citizens. Under 16's go free.
Ulster Star
19/11/2010