Donaldson is appointed to Defence Select Committee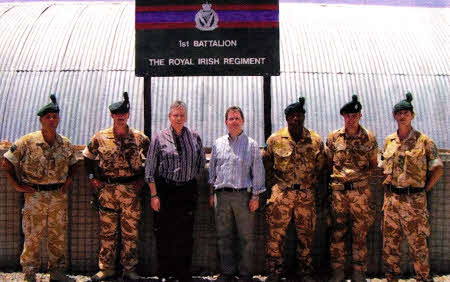 Lagan Valley MP Jeffrey Donaldson and First Minister Peter Robinson visiting troops from the Royal Irish Regiment as they prepare for deployment in Afghanistan
LAGAN Valley MP Jeffrey Donaldson has become the first Northern Ireland MP in modern times to be appointed to the Defence Select Committee in the House of Commons.
Speaking after his appointment Mr Donaldson said: "I am delighted to have won a seat on what is one of the most sought after committee places in the House of Commons. The competition for places on a Committee like Defence is fierce and I count it a great honour to have been selected by Parliament to serve in this important role.
"With Lagan Valley having a long association with the armed forces and Lisburn being the Headquarters of the Army in Northern Ireland I believe that my membership of the Defence Select Committee will at last give Northern Ireland a voice on matters of Defence and National
Security. This' combined with my membership of the Privy Council, will see me involved in key issues like the Strategic Defence and Security Review which will shape the future of our armed forces for many years to come."
Mr Donaldson went on to say: "In addition' I will also be a voice for the many veterans who live in Northern Ireland and who have not always been best looked after despite their service and sacriftce. This includes my former comrades who served with the Ulster Defence Regiment and the Home Service battalions of the Royal Irish Regiment.
"As a member of the Royal British Legion and a supporter of their campaigns for a better deal for veterans' I will be proactive on the Defence Committee in pressing the Government to honour their commitment to enhance the Military Covenant and improve the level of support and care provided to injured and disabled soldiers and veterans as well as to widows and families."
Mr Donaldson added: "I am very proud of the contribution that Northern Ireland has made down the decades to the defence and security of our country.
"In two world wars and in conflicts such as Korea, Bosnia' Kosovo' Iraq and Afghanistan' Ulster men and women have always played a vital role in the service of the United Kingdom.
"With both the Irish Guards and the Royal Irish Regiment destined for another tour of duty in the Afghan theatre this autumn' this valiant service is set to continue. I hope to visit the troops at some stage during their tour of duty"
julieann.spence@ulsterstar.co.uk
Ulster Star
23/07/2010