Dirty dog owners face on the spot fines
by STACEY HEANEY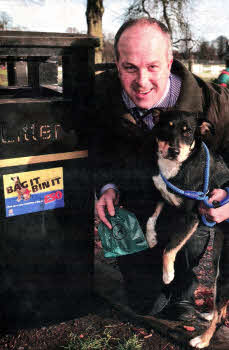 Councillor James Tinsley, Chairman of the Council's Environmental Services Committee is promoting the importance of cleaning up after dogs in public areas. The dog pictured with Councillor Tinsley is a stray dog, which is waiting to be rehomed through the Council's Dog Rehoming Service.
LISBURN City Council is to tackle dirty dog owners by issuing an on the spot fine of £50 to those who allow their pets to foul in public.
The move comes after an increase in complaints by the public about dog fouling in the City.
Councilor James Tinsley, Chairman of the Council's Environmental Services Committee, said that in recent months they had received an increasing number of complaints about dog fouling.
"It is illegal for anyone in charge of a dog not to clean up after the animal" he said. "Yet every year the Council spends tens of thousands of pounds on cleaning up this mess, money that could be better spent enhancing the City and providing facilities and services if only all dog owners 'bagged it and binned it."
He said the Council will now be issuing an on the spot fine of £50 after it was revealed it has been several years since a prosecution has been made against a dog fouler.
"As a council it is time for us to be pro-active," he said. "Complaints seem to be increasing and we have to try to get the message through that prosecutions will be made. People have to walk through this mess and it is dangerous for young children, if they touch it there is the danger of their eyesight being affected.
"We haven't been as strong as we could have been; but we will be now," he added.
"If dog owners go out and don't clean up after their dog, then we need information from the public. They don't have to be afraid to come to the Council confidentially, if we get enough information pointing us in the right direction then a prosecution can be made."
Mr. Tinsley continued: This is happening right across the city, not just in the city centre, but in our villages and towns. We want to see cleaner streets, parks and open spaces for all of our citizens."
Under the Litter Order (NI) 1994 it is illegal for anyone in charge of a dog not to clean up after the animal. If an on the spot fine is not paid the Council says it will instigate court proceedings. If found guilty of the offence the person could then be subject to a maximum penalty of £500 plus court costs.
At the same time the council says it has put in place a number of measures to promote a more responsible attitude towards dog ownership and apprehend those who continually act in an irresponsible manner.
These include:
Patrols at peak times — early mornings and evenings when owners are most active with dogs.
Provision of litter bins to dispose of the used poop-scoops.
Visits to schools and community groups — educating children and adults in the importance of dog care and control.
Liaising with local community groups to promote responsible dog ownership.
Placing additional dog fouling signage in affected areas.
Mr. Tinsley added: "Dog owners should be responsible and automatically bring a 'poop scoop' or disposable plastic bag with them when leaving home with the dog. Properly secured bags can be placed in any Council litter bin in the Lisburn area or into the landfill bin at the owners home."
Meanwhile, Councillor Allan Ewart has called for irresponsible dog owners to be prosecuted.
Speaking at Tuesday night's Council meeting Mr. Ewart said: "It is time for the officers to look at this issue seriously as the Council have not prosecuted anyone within the last five years."
"Irresponsible dog owners must get the message to clean up after their dogs or suffer the consequences. I am glad that the council will monitor the situation every three months and I trust that this issue will be dealt with seriously and our streets will be cleaned up and help make Lisburn a Clean City for Everyone."
stacey.heaney@ulsterstar.co.uk
Ulster Star
26/11/2010