New garden retailer blooms in Lisburn
DOBBIES OPENS FIRST NI CENTRE OFF THE SAINTFIELD ROAD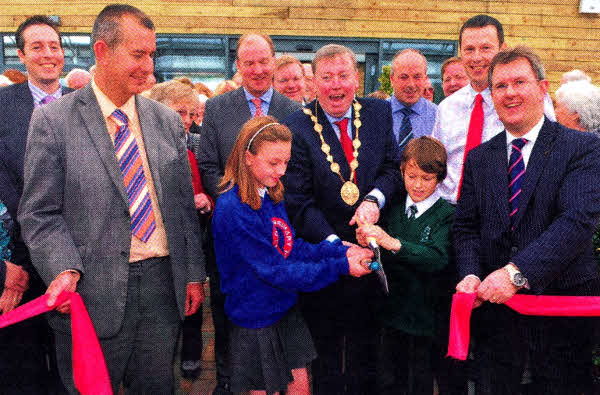 Environment minister Edwin Poots, Lagan Valley MP Jeffrey Donaldson and Lisburn Mayor Paul Porter are helped by Matthew McMahon from St Aloysius Primary and Sarah Cherry from Killowen Primary at the official opening of the new Dobbies Garden World in Lisburn.Photo by Aaron McCracken/Harrisons
DOBBIES officially opened its multi-million pound Garden World store in Lisburn last weekend - the company's first centre in the province.
The company says it has invested £8.6m in the centre on the Saintfield Road and 120 new jobs have been created.
Lagan Valley MP Jeffrey Donaldson, Environment Minister Edwin Poots and Lisburn Mayor Alderman Paul Porter were in attendance at the launch with BBC celebrity gardener Brendan Little.
St. Aloysius Primary and Killowen Primary and nursery children cut the ribbon to officially launch the centre to the public, after they won a competition to design a secret garden which will be created at their schools with help from Dobbies plant experts.
Speaking at the launch Mr Poots said: "It has been exciting to observe the development of Dobbies since work commenced just 22 weeks ago. The professionalism in the delivery of the project was most impressive and I have every confidence that will be replicated in the the management of the new Garden Centre and the service provided in it.
This investment at a time of financial turmoil, has been a great boost for Lisburn and Northern Ireland."
James Barnes, chief executive of Dobbies, said of the centre which is designed to work in harmony with the environment: "We are delighted to open our first Garden World in Northern Ireland which we believe is a concept for a new generation of garden centres in the province. "The Garden World is in keeping with our provenance and heritage as expert horticulturalists since 1865 whilst providing a modern destination for today's consumer.
We're looking forward to welcoming our first Northern Irish customers, who we hope will love Dobbies and our new-concept Lisburn centre."
Ulster Star
01/10/2010