Lisburn couple delight after winning £25,000 dream wedding
by JENNY MONROE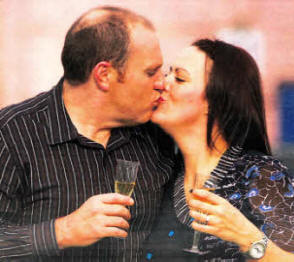 A COUPLE from Lisburn are celebrating after winning an amazing wedding package worth over £25,000.
Gillian Lyttle and Mark Allison picked up the prize after The Wedding Journal Show and their prize sponsors teamed up with Citybeat to offer engaged couples the chance to win a once in a lifetime wedding package.
The local pair fought off stiff competition over the last three weeks including going head to head with another couple live on air to win a place in the 'super challenge at Victoria Square where they then devoured cupcakes, dressed Mark in make-up and did a supermarket sweep in House of Fraser to find the golden ticket to the ftnal.
At the last round Gillian and Mark, live on stage, got kilted out in wedding gear, participated in a wedding music quiz and completed a 'Mr' and 'Mrs' challenge — where Gillian's favourite after dinner treat 'lemon cheesecake' nearly lost them a point before they were finally awarded the 25K package which includes: a wedding reception for 100 guests in Jackson's Hotel, Ballybofey, Co. Donegal; a three course meal with wine; food for the evening reception and accommodation for the bridal party; a luxury honeymoon, courtesy of Tourism Fiji, a beautiful Hollywood Dreams, bridal gown courtesy of Reflections Bridal Studio, Lisburn, suit hire for the groom and his wedding party from Red Grooms, Cookstown and Carrickfergus, gold wedding planner service ny David McConkey, room design by SBD Events, wedding flowers by Floral Earth, a photography package by Aurora Photographic Agency and a wedding video package by Screencraft Productions.
Gillian, who the day before had won a voucher for Lisburn clothes store Vanilla, said both she and Mark are delighted: "It really is a dream come true."
Mark has had a hard time with his back so it's great to get this as it really will take the pressure off planning our wedding."
The couple, who have been engaged for two years, have set the date for their big day - November 10 2011.
Show Director Wynn Penton commented: "Congratulations to Gillian and Mark, this is a fantastic prize and we at The Wedding Journal Show are delighted that we could make a couple dreams come true"
Ulster Star
15//2010