Dylan meets his soccer heroes before big match
by GARY ELLIS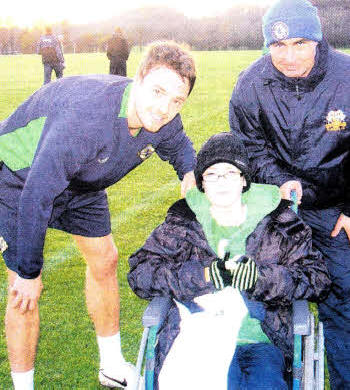 Dylan and dad Jonathan meet up with Northern Ireland and Manchester United star Johnny Evans during the training at Stormont this week.
Local schoolboy Dylan Livingston, who is bravely fighting cancer, got the chance to meet some of his Northern Ireland football heroes this week.
Braving the cold weather conditions 12-yearold Dylan, who attends Lisnagarvey High School, was able to watch the players get some last minute training in at Stormont before the international against Morocco on Wednesday night at Windsor Park.
The players took time to chat with Dylan and he had some photographs taken along with some autographs. Dylan was thrilled to get snapped with Johnny Evans, Chris Brunt and manager Nigel Worthington.
Gareth Walker of the Highway Inn Northern Ireland Supporters Club helped arrange the occasion with the aid of Geoff Wilson from the IFA.
"Dylan's father Jonathan is a good friend of most of our club members so we took the decision to try and arrange something special for Dylan," said Gareth. "We also gave them complimentary tickets for the friendly match against Morocco. Thanks also should go to Premier Taxi Company for providing free transport for them."
Dylan, armed with his Northern Ireland top which had been donated by Damien Johnson who won over 50 international caps, was thrilled at the visit and the match.
Ulster Star
19/11/2010