Sunday opening just for Dylan
Local hairdresser holds fund raising day for boy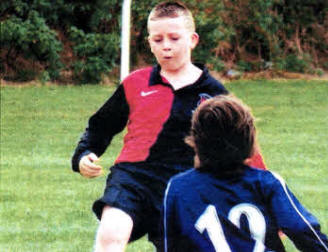 A LOCAL hairdressers will hold a special fund raising day this Sunday, June 13, to help raise money for Dylan Livingstone who was diagnosed with a spinal tumour earlier this year and may have to travel to England for a lifesaving operation.
A final decision has yet to be made whether 12-year-old Dylan, from Ashley Place in Lisburn and keen footballer for Lower Maze FC, will have to face that prospect. So far the courses of chemotherapy he has undertaken has been able to shrink the tumour and specialists treating the Lisnagarvey High School pupil hope that if the treatment continues to work he may not have to go to Stanmore Hospital.
Dylan was diagnosed five months ago after the active young footballer complained of a severe pain in the shoulder which would go down his arms.
When he then lost the power down one side of his body and fell down the stairs at his home he went for an MR1 scan at the Royal Victoria Hospital which showed that he had a rare form of a tumour, an aggressive malignant rhabdoid tumour on his vertebraes.
In January, he had an operation at the Royal Victoria Hospital to remove part of the tumour however some of it could not be removed because it attached itself to nerves.
Dylan, who has had to depend on a wheelchair, has had to undergo courses of chemotherapy since February.
His mother Elizabeth said: "We are just waiting to see if he needs surgery in England or not. The chemotherapy has been able to shrink the tumour but we will have to wait and see if it he will have to go for surgery."
"He has found it hard to cope -but is he in good spirits now and back to his normal self. Some days he gets very tired while other days he is fine. Most of the time he does not need the wheelchair."
On hearing about Dylan's illness the Castlereagh League raised £1000 and then when the stylists at Elizabeth's hairdressers, Ash at Longstone Street, heard they too wanted to raise some money.
Aundrea Scott who runs Ash got to hear about Dylan's illness when his mother rang up to cancel an appointment.
Aundrea explains: "His mother was not able to make an appointment because she was at the hospital with Dylan. He has been coming into the salon for years with his mother and sister Chelsea - sometimes he had to be bribed and made sit.
"Eight years ago I helped to raised money for my sister Gillian McGivern who had to have a liver transplant at Kings Cross College in London and we did a relay at the Belfast Marathon to raise money for the hospital.
"So along with Cheryl Little and Laura Willis other stylists in the salon we decided to do some-
thing for Dylan and came up with the idea of opening on a Sunday for clients to raise money.'
Anyone who would like to make an appointment or just want to drop in can do so by ringing Ash on 92676677.
Ulster Star
11/06/2010