DYLAN LOSES BRAVE FIGHT
Tributes to the boy who loved football
by MARY MAGEE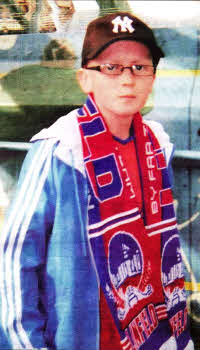 DYLAN Livingstone, the 12-year-old boy whose brave fight against a rare form of tumour touched people across Lisburn, has passed away at his home just 10 months after being diagnosed.
Described by his mother Elizabeth as an 'inspiration, Dylan died on Sunday morning at his Ashlea Place home.
He was told on his 12th birthday on February 18 that he had a spinal tumour. But his resolve to beat the odds prompted others to rally around his family organising fundraising events to help him.
The Castlereagh League raised £1000 and his mother's hairdressing salon, Ash at Longstone Street, also raised around £900 in a special event in June.
Dylan was a pupil of Lisnagarvey High School. He loved to play and watch football and was a dedicated Chelsea fan who played for Lower Maze Under 13's. Just a few weeks ago he was the special guest of the Northern Ireland football team at training and then during their match against Morocco.
The first signs of his cancer began last November when he began to complain about a sore shoulder. On January 16 he collapsed while going down the stairs. An MRI scan at the Royal detected a large growth on the back of his neck and that night he was taken for an operation to remove part of the tumour. It was then it was revealed he had a rare tumour, an aggressive malignant rhaboid tumour on his vertebrae. Some of it could not be removed because it had attached itself to nerves.
Dylan had to undergo courses of chemotherapy since February and was supposed to travel to England for a potentially lifesaving operation in August, but as the cancer spread consultants decided to keep him on radiotherapy.
His mother Elizabeth Welch said: "There were a lot of times when he was in a lot of pain but he battled on and never once complained.
"When he collapsed he lost the power on his right side of his body and the pain was so severe they did not know whether he would walk again. The consultants worked really hard to get the power back into his leg. Due to his sheer determination he worked hard and got the strength back to his arms and legs again. That was the type of person he was.
"He was a brave fighter. He never complained and despite the fact he was in a lot of pain he just fought on. He would always tell me what he wanted to do when he got better.
"He found out on his 12th birthday in February - the consultant and I had to break the news to him."
Dylan started a bout of chemotherapy in March in the hope that it would shrink the remains of the cancer on his spine which had attached to the nerves.
After six bouts of chemotherapy it was discovered in August the cancer had spread and that the chemotherapy had to stop. He underwent five weeks of radiotherapy and five weeks of chemotherapy tablets.
Despite Dylan's obvious pain, his mother said he refused to let it get him down.
"He was always talking about what he would do when he got better. He would often tell me he was going to do this or that. "He was very emotional on Mothers Day. He gave me his present the day his hair started to fall out. But after a few weeks he just kept going. He fought a very brave battle.
There were times when he got very tired while there were others when he was just fine."
Dylan used the money that he received from fundraising events to go on a shopping spree where he bought his beloved designer clothes.
His funeral on Wednesday began at his house at Ashlea Place then moved to the Church of the Nazarene. He was later buried at New Blaris Cemetery.
Elizabeth said that she would like to thank everyone who helped with Dylan's treatment.
"I would like to thank everyone. Dr. McCarthy and Dr. Cairns based at the Royal and the Hematology Unit and everyone who showed their care and support during his illness."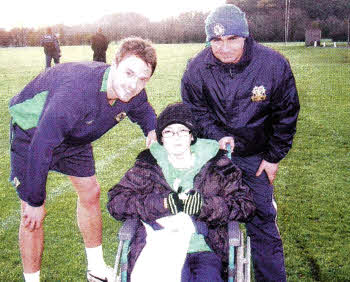 Roddy Crooks, Manager of Lower Maze Under 13's said that the team were all devastated by his loss.
"He was a very quiet big fellow who will be sorely missed," he said. "He was a defender, a centre half, and got on with everyone. He would never have said a bad word and none had ever been said about him. He was with us for four years and would come on a Wednesday for training and then to the match on Saturday.
"We at the club are all devastated by the news. I remember him complaining about his sore shoulder but it seemed as if it was just a frozen shoulder or something. Even though he had not been playing since Christmas his mother sometimes brought him to the matches when he was well enough."
All the teams in the Lisburn League will hold a minute's silence before Saturday's games as a mark of respect to Dylan.
A Service of Commemoration was held at Lisnagarvey High, Dylan's school, on Tuesday.
The principal Mr. Jim Sherrin described him as a boy who was so 'dear to us alT and said that Dylan 'made such a huge impression on each and every one of us who were honoured to know him.'
"The force of his personality, the enthusiasm of a boy who loved life, loved sports, loved football and illuminated his classroom with his presence," he said.
He said that his teacher Mrs. Harrison spoke of how his class missed him. She described
him as a 'bubbly,' 'wonderful' pupil who got on with everyone, had 'impeccable' manners, was 'excitable,' and who could give a football report to the class on Monday morning, passionate about his team, very unpassionate about Man Utd.
She said that Dylan would hold court in the class and was the one person who could raise everybody's spirit.
The principal continued: "Dylan may not have been with us long, however, in his short time at Lisnagarvey he made a massive impact to school sport and to the Coaches and players around him.
"Dylan was a mad keen and talented footballer who would have graced any football pitch. When playing he showed all of the attributes of a football player which included his determination, competitive spirit and always playing a hard but fair game. His positive attitude, even when things did not go according to plan, lifted the whole team and he himself would raise his game. His discipline on the pitch was first class and as well as being a gracious winner he was also gracious in defeat.
"Even though Dylan was an avid Chelsea supporter he was still exceptionally popular with his team mates and the staff who worked with him. He was well-mannered and had a super temperament and it was always a dream that at some stage m his life he would make it as a footballer. Unfortunately, however, as his illness took its toll his dreams would never turn into reality.
"This remarkable young man who had such a massive effect on us all will be sorely missed as both a pupil and a football player."
Ulster Star
17/12/2010