Campaign against Edenderry scheme comes to Lisburn
by STACEY HEANEY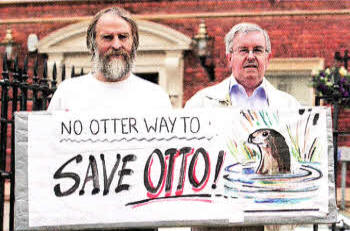 Michael Walker and lan Lamont, from the Ulster Society for the Protection of the Countryside, launching the appeal outside the DUP's Lagan Valley office. US331O538cd
EDENDERRY.residents took to the streets of Lisburn last Saturday to appeal to DUP colleagues of Environment Minister Edwin Poots to urge him to revoke planning permission for a controversial riverside development in the village.
Representatives from the Ulster Society for the Protection of the Countryside (USPC), together with residents from the village, getherred outside the DUP office in Castle Street to express their disappointment after the Minister referred a letter to him asking for his intervention back to the Downpatrick Divisional Planning Office for a response - despite the letter objecting to the office's handling of the application in the first place.
Residents and the USPC have mounted a long campaign against a proposed four-storey mixed-use development, which would see offices, craft shops and a restaurant being developed in the village which lies in the Lagan Valley Regional Park. They say it would also have a detrimental impact on the otter population in the area.
To highlight this, the group held a protest outside the DOE Headquarters in Belfast, with one member dressed as 'Otto' the otter, before bringing their appeal to Lisburn, urging Mr Poots to intervene "to prevent the permanent blighting of this part of the Lagan and the Lagan Valley Regional Park."
In a letter to the Minister, Ian Lamont, Honorary Secretary of the USPC wrote: "We feel this issue is of such great importance to so many people (this part of the towpath being the most popular walkway in Northern Ireland), that you personally must be prepared to intervene to save it for future generations."
Michael Walker, an Edenderry resident, said: "This was an appeal on behalf of the USPC and the villagers to the Minister as we feel he is the only person left to prevent this development. Such has been the response from Planning Service that all the indications are that they will give it permission and we see the Minister as our last hope."
While in Lisburn the group collected over 200 signatures on a petition which they hope will eventually have "several thousand" signatures which they can present to the Minister.
Michael continued: "The Minister has the power to revoke permission. It came to light recently about the otters; to give permission, which would affect a protected species
could be an offence. It would be outrageous if this was to happen, the otters wouldn't survive.
"There is very strong feeling toward this in the village and the idea now is to keep our petition going. The response from the Minister is not really satisfactory, but we were very encouraged by the response from the public, so many people stopped to chat about it and we aim to make more people aware of it."
A DOE spokesperson commented: "The Minister sees all correspondence addressed to him as well as copies of responses. However due to the sheer volume of correspondence it would not be possible for the Minister to personally respond to every letter received."
stacey-heaney@ulsterstar.co.uk
Ulster Star
27/08/2010