All aboard as Dublin train makes a stop in Lisburn
by JULIE-ANN SPENCE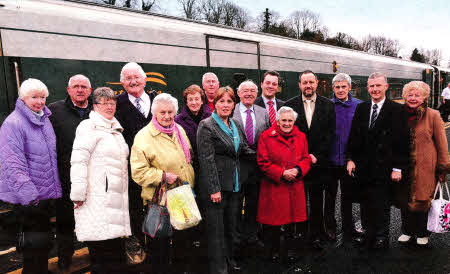 Pictured with Councillor Ronnie Crawford, Chairman of the Council's Planning Committee are fellow Councillors and members of the public awaiting the first 'Enterprise' train to arrive in Lisburn on December 13.
THE long delay ended this week when the Enterprise train between Belfast and Dublin had its first scheduled stop in Lisburn on Monday.
After a number of years campaigning, Lisburn is to become a permanent stop for three daily journeys of the train between Monday and Saturday each week.
The Mayor of Lisburn, Alderman Paul Porter, who was present at the station for the arrival of the first train, said: "I would like to thank Translink for their co-operation with Lisburn City Councillors, Jenny Palmer and Jim Dillon, in getting this initiative 'on track' for Lisburn.
"For those visitors wishing to come to the City of Lisburn, it will now be easier as they will no longer have to get off the Enterprise train at Portadown or Belfast and change to a local train; and unlimited day travel around the City is made easy with local Translink services."
Councillor Jenny Palmer, Chairman of the Council's Economic Development Committee, who also met the train said: "It is fantastic news for Lisburn City that it is now a destination on the Enterprise train timetable. Lisburn is ideally located on the Belfast-Dublin economic corridor and has so much to offer visitors.
"The scheduled stops will provide significant economic opportunities for the City, especially in the festive season and the year ahead. With its strong retail offer Lisburn should expect to attract more visitors from the Republic of Ireland, who are eager to make their Euros go that bit further."
Chairman of the Council's Planning Committee, Councillor Ronnie Crawford, who travelled to Dublin on the train added: "I was pleased with the number of people who boarded at Lisburn and hope this service will be widely used in both directions."
julieann.spence@ulsterstar.co.uk
Ulster Star
17/12/2010