Full steam ahead as Enterprise arrives next month
by STACEY HEANEY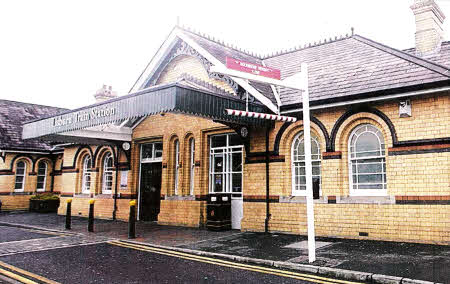 Lisburn Train Station - the Enterprise is set to stop here from December 13.
THE Enterprise train service between Belfast and Dublin will begin stopping in Lisburn from December 13.
Work has been underway at Lisburn Railway Station to extend the platform to allow the service to cater to local passengers, rather than commuters having to pay extra travelling to Belfast or Portadown if they want to go to Dublin.
The arrival of the Enterprise to Lisburn will see selected services to and from Belfast serve Lisburn and Translink is advising passengers there will be some minor timetable adjustments during Monday to Saturday operations in place from December 13.
Mal McGreevy, General Manager - Rail Services with Translink, said the adjustments will enable the Enterprise to meet passenger demand, enhance tourism potential and provide better passenger convenience.
"These timetable adjustments will be particularly beneficial for passengers who would prefer to board the service in Lisburn" he said.
"They will also help to encourage visitors into the area, boosting the local economy, and we are especially pleased to introduce the changes in the run up to the busy festive period.
"Some departure and arrival times have been changed by up to five minutes but there are no changes to the current Sunday timetable.
"We would ask our passengers to check journey times before they travel by clicking www.translnk.co.uk or calling 90 66 66 30. Revised timetable summary leaflets are also available from local stations," said Mr McKnight.
SDLP South Antrim MLA Thomas Burns said: "This is fantastic news that will hugely benefit people from Glenavy, Crumlin and Aldergrove, enabling them to have easy access to the train to Dublin, without having to travel to Portadown to board.
"It will also enhance tourist passengers' convenience as they will now be able to leave the train at Lisburn and avail of the regular bus service to the International Airport." Lagan Valley Assembly Candidate Pat Catney added: "I am glad that Translink are no longer going to snub Lisburn and are to start taking some responsibility for serving the travelling public in our city.
"For too long Translink passengers from Lisburn who wanted to get on the Enterprise have had to pay an extra £5 for a ticket to get to Belfast in order to board the train.
"The fact it is now to stop in Lisburn will be a boost to our local economy, particularly in the run up to the Christmas period, as visitors will now be able to hop off at Lisburn to dine or do their shopping.
"I am glad that Translink has finally seen sense and has given Northern Ireland's newest city a real opportunity to flourish."
stacey.heaney@ulsterstar.co.uk
Ulster Star
26/11/2010