Lisburn students are Hungary for epic cycle challenge
1300 MILE PEDAL THROUGH EUROPE RAISES FUNDS FOR CHRISTIAN AID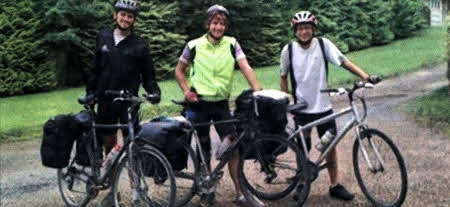 Left to right Jamie Humphries, Robbie McFaul and Graeme Greenfield
THREE local students are currently undertaking an epic bicycle ride from Budapest in Hungary to Oxford in an effort to raise funds for Christian Aid.
All three students are former pupils of Wallace High School. Jamie Humphries and Graeme Greenfield (who are both at Oxford University) along with Robbie McFaul (at Durham University), all 21, flew to Budapest on Tuesday July 20 and have so far cycled through Hungary, Slovenia, Austria, Germany, Holland and France.
They hope to arrive in Oxford by this weekend Friday August 13 - a journey of approximately 1300 miles.
The journey is meant to end there but the boys have decided to have a well-earned rest in Oxford and then cycle to Liverpool to sail to Belfast before completing their trip by pedalling through their home gates in Lisburn.
Jamie's mother Fiona says she is incredibly proud of the boys and can't wait to see her son. They have done so well and it's all for a good cause. I am proud of them all for taking on the challenge. It will be good to see them home."
If you would like to sponsor the boys you can do so by logging on to their website https://original.justgiving.com/hungarytoukcycle2010 or call into Hallmark, 6 Market Square, Lisburn to make a donation.
Ulster Star
13/08/2010