A master craftsman who reached heights of his profession
OBITUARY Eugene McClinton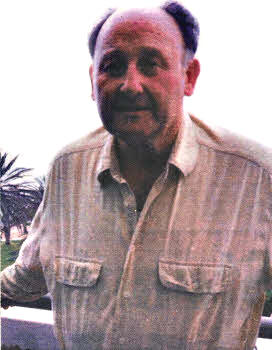 ONE of Lisburn's most talanted footballers has passed away in his London home.
Eugene McClinton was known locally mainly for his football ability, but his trade as a master plasterer was to bring him acclaim from as high as the Royal family.
A pupil of St. Patrick's High School, a young Eugene soon caught the eye of football scouts when he played in the Lisburn League as a 13-year-old with Barnsley Star. When he was 15, he was off to West Ham United.
During his time at Upton Park, Eugene played in the youth team and was one of the emerging stars. His great claim to fame was that he played alongside greats like Bobby Moore and Martin Peters in that youth team' but after two years away from home the young teenager was so homesick he gave it all up and came back home.
Often, reflecting on his decision, Eugene said it was the biggest mistake of his life.
However, back home, he served his time as a plasterer in Lisburn while continuing to enjoy his football earning Irish Youth and Amateur League International recognition.He played
Irish League football with Ards and Ballymena until work brought him to London where he was to set up home.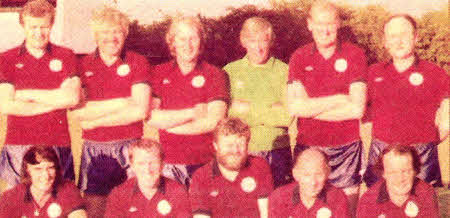 Eugene (back row, first right) played his last match in a charity game at Crewe United in the late 80's.
Eugene settled in Milford, Surrey in 1989 with second wife Margaret and was soon in demand for ornamental plasterwork by the National Trust and carried out restoration work at Waddesdon Manor in Buckinghamshire' the home of the Rothschild family.
Some of his most famous work was at the Temple of Venus at Stowe School, Aylesbury and he spent three years at Uppark House, West Sussex following a massive fire in 1989.
When completed the National Trust connmented 'the repair has been the most complicated the National Trust has ever undertaken.'
Such was the quality of Eugene's plaster-work he was featured in an ITN documentary. It was no surprise when he was called in to carry out work at the Queen's private Chapel. at Windsor Castle following the disastrous fire in 1992 and was later commissioned feature works at several municipal buildings and parks.
The Queen Mother often spoke of his skills when she visited Windsor Castle following the painful restoration work.
In later years Eugene's health deteriorated through Motor Neurone Disease, yet, he was always hopeful a cure couid be found so he could walk again. Eugene passed away on May 21 leaving behind wife Margaret' daughters Maria, Paula and son John.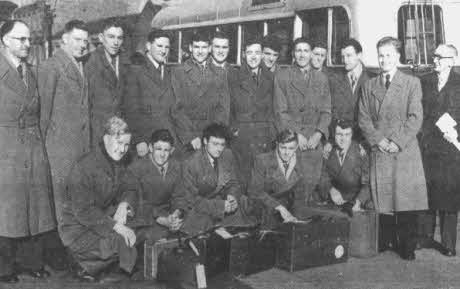 Eugene, back row thlrd from rlght, about to set off for an International game with the Amateur League team.
Ulster Star
25/06/2010