500 new homes for 'Euro' village
£5.5m is earmarked for new dual carriageway to complete link road
by JULIE ANN SPENCE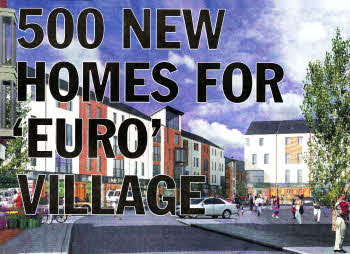 A V1S1ON of the future was revealed this week as the developers behind Lisburn's award-winning eco-village, Woodbrook, unveiled plans to expand the already ambitious housing scheme to include almost 500 new homes in a European-style village square, which will be unique to Northern Ireland. As well as planning almost 500 new houses and apartments, the developers, the Carvill Group, will also spend £5.5 million pounds on creating a dual carriageway along part of the Prince William Road and the Knockmore Road. This will complete the link road around the north of the city from Sprucefield, via Blaris, to the North Feeder Road.
At a meeting this week of Lisburn City Council's Planning Committee, Chris Carvill from the Carvill Group and Dr Michael Gordon from Turley Associates revealed details of the amended plans, which could see the number of units in the" second phase of the Woodbrook development increase by 490, which is in addition to the 575 homes already approved for the Brokerstown Road site.
The developers said they were hopeful the new scheme would get the go-ahead from the Planners as early as next month.
Chairman of the Council's Planning Committee, Councillor Bill Gardiner-Watson, welcomed the proposals, particularly during the current economic climate. This is a very exciting proposition," he said. "It is a substantial investment in our city and something we should encourage." The proposals were largely welcomed by councillors at the meeting, however, Lisburn North Councillor Jonathan Craig said he was concerned about the increase in density of the housing and the impact it would have on the traffic flow in the area. He added that he was unconvinced that the improvements proposed for the Knockmore and Prince William Roads would ease the congestion.
The Knockmore Road and Prince William Road junction is a major bottleneck in the whole traffic infrastructure of Lisburn," said Mr Craig. "While I would welcome the widening of the Knockmore Road and the small portion of the Prince William Road from the traffic lights up to the roundabout, my experience tells me this will not solve the traffic issues in the area. I have huge concerns about increasing the density of the housing if the traffic issues in the area are not resolved."
julieann.spence@ulsterstar.co.uk
Ulster Star
11/06/2010