Substance misuse protect is launched
by JENNY MONROE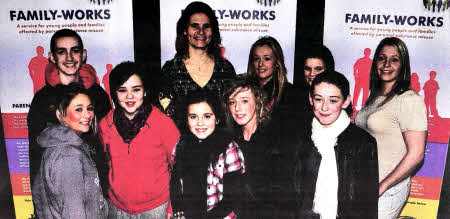 Pictured with local youth are Family-Works Manager Franziska Hewitt, Key Worker Rochelle McCurry, and Chief Volunteer Carly Bustard.
US5010-405PM Pic by Paul Murphy
A NEW pilot project for young people and families affected by substance misuse is now available in the Colin area.
Family-Works is provided by ASCERT and is a family based service working with children aged 11-18 years and their families who are affected by an adult family members' misuse of alcohol or prescription or illicit drugs. Family-Works is offering information sessions in the Sally Gardens Community Centre on Wednesday's from 9.30am to 12.30pm.
Franziska Hewitt, who manages Family-Works commented: "It is estimated that at least 40,000 children in Northern Ireland are living with parental substance misuse. Children living with substance misusing parents experience what is called 'Hidden Harm'. It is called this because often the harm it is causing is hidden from sight and they are coping with it alone. It can cause harm to them, it can harm their development and harm their outcomes later in life."
Family-Works aims to provide young people and their families with appropriate packages of support that will reduce the impact of parental substance misuse on their lives. The programme will take the form of interactive and creative activities and personal development programmes which aim to promote healthier relationships, increase understanding of the effects of substance misuse within the family and support and sustain positive changes.
This week Family-Works were at Sally Gardens Community Centre to launch the information sessions. A group of young people from Sally Gardens Community Centre with staff from Family-Works have already completed an education initiative learning about the effects of parental substance misuse on the whole family. They also designed marketing stands which will be on display in public locations across Colin over the next couple of months to promote the service. The young people want to get the message across to other young people that its ok to ask for help and the importance of getting help when you need it.
Franziska continued: "Family-Works is an excellent way to support the whole family in understanding and coping with the effects of an adult carers substance misuse."
Anyone interested in this service can book an information session, without further commitment, in the Sally Gardens Community Centre. Family-Works will be there in January and February initially on Wednesday's from 9.30am to 12.30pm. The first information sessions are held on Wednesday January 5. You can contact Franziska on 07545 928224 or Sally Gardens Community Centre on 028 90627250 to find out more.
Ulster Star
31/12/2010