Lisburn students `fantastic' idea scoops top innovation award
by DANIEL HENRY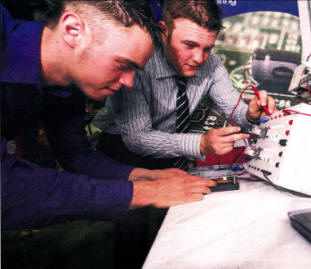 TWO students from the Lisburn campus of the South Eastern Regional College have scooped the top award at this year's Sentinus Young Innovators Exhibition which allows elderly or disabled people to send a text asking for help simply by speaking.
David McCarroll and Jonathan McEwan were named the 2010 'Northern Ireland Young Innovators' for their development of a voice activated alarm system which operates by using a voice activated command that sends a pulse to a PLC (programmable logic controller), which in turn creates and sends an automated 'help' SMS text message to a carer or family member's mobile number.
The Chief Executive of Sentinus Brian Campbell praised David, Jonathan and their lecturer Paddy McShane for what he called 'a fantastic innovation'
"You can see how it could work commercially, but also from a carer's and family member point of view it could offer real peace-of-mind" he said.
As well as being crowned Northern Ireland Young Innovators 2010 the students from Lisburn also picked up the Engineering UK Special Award for 'Engineering in Society'. Victor Jordan, Engineering UK Regional Manager for Northern Ireland, commented "The judges were extremely impressed by the students' innovation and felt that their project has the potential to make a significant impact on the lives of both careers and their patients. For this reason Engineering UK is delighted that the Award went to David and Jonathan."
Overall, more than 3,300 people - including pupils, teachers, parents and political representatives
descended on the Odyssy Arena for the Sentinus 'Young Innovators' Exhibition - the biggest science fair of its type in the whole of the UK. The annual one-day exhibition, which is organized by the education charity Sentinus, saw displays of students' innovative project in science, engineering, technology and mathematics (STEM subjects). Along with these were exhibitor stands demonstrating science and engineering in the workplace from over 30 organizations.
Mr Campbell said it was "a great endorsement of STEM and the strong talent and skill base that exists within Northern Ireland. From what I have witnessed today, I have the upmost confidence that the young scientists and innovators that have displayed their work will play a major role in the future economic success of Northern Ireland."
Ulster Star
09/07/2010