Lisburn students flying the flag in the US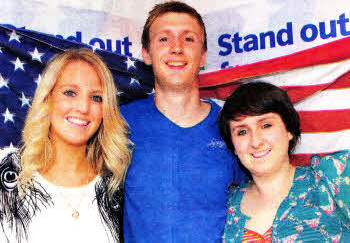 THREE Lisburn students are preparing to fly to the United States where they will spend a year as part of the Business Education Initiative.
Steven Adams, Cheryl Conway and Corinna Hoey have neen receiving last minute advice and information at a pre-departure meeting in Belfast' before starting their new life.
Cheryl, who will be studying in King College, Tennessee; Steven, who will be studying in the College of Saint Scolastica, Minnesota, and Corrina, who will be at Saint Joseph College, Connecticut are part of the British Council educational project.
The British Council, which is the UK's international organisation for educational opportunities and cultural relations' manages BEI on behalf of the Department for Employment and Learning (DEL). The students will study for a year in American colleges, where they will gain international experience and business knowledge which will help to develop their management and leadership skills for their return to Northern Ireland and future careers.
The three students were part of a group of 100 Northern Ireland students who were chosen for the scholarships after undergoing a competitive selection process to take part in the prestigious programme.
Karen McCormack of the British Council said: Our students are full of excitement as they make their final preparations. This international opportunity to study in a US classroom where they will learn new business subjects, from professors who are often experts in their field, is totally priceless.
"Employability skills will be enhanced through internships, Ambassadorial presentations, and volunteer work. The development of new interests and passions will be encouraged and entrepreneurial flair nurtured, giving our students a competitive edge for their future careers in an increasingly international work context."
Ulster Star
30/07/2010